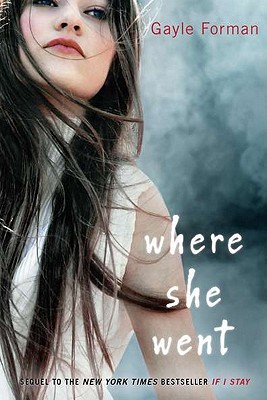 Where She Went by Gayle Forman
Hardcover, 264 pages
Published April 5th 2011 by Dutton Juvenile
~Rating: 4/5 stars~
It's been three years since the devastating accident . . . three years since Mia walked out of Adam's life forever.
Now living on opposite coasts, Mia is Juilliard's rising star and Adam is LA tabloid fodder, thanks to his new rock star status and celebrity girlfriend. When Adam gets stuck in New York by himself, chance brings the couple together again, for one last night. As they explore the city that has become Mia's home, Adam and Mia revisit the past and open their hearts to the future – and each other.
Told from Adam's point of view in the spare, lyrical prose that defined If I Stay, Where She Went explores the devastation of grief, the promise of new hope, and the flame of rekindled romance.
~Review~
I'm soo happy I finally finished this series! Where She Went is much, much, better than the first book. There was just something different about this book. Whether it was the change of narrator or how I felt that it stayed more in the present, with flashbacks that I felt were more relevant to what was going on, there was something that just caught my attention more than If I Stay was able to do. This book was flawless, heart-breaking, uplifting, inspiring – just so achingly beautiful I can't quite find the words.
I liked how the story was through Adam's perspective and how they each moved on from such a tragic event.  It takes place several years after Mia got on a plane to go to Julliard and basically never looked back…. his own band skyrockets to world-wide fame in the mean time and he is in NYC one day just before he is about to go on tour and happens to have a few free hours where, by chance, he sees one of Mia's performances and ends up reconnecting with her over the course of a 24 hour period…
I was quite pleased with the direction that Forman took with their story.
If you haven't read If I Stay, please do….between it and Where She Went you'll be wholly invested in their story and it will make you appreciate those special people in your life. I highly recommend it!
~~~
~Author Bio~
Gayle Forman is an award-winning internationally bestselling author. Her books include Just One Day, Just One Year, I Was Here, Where She Went and If I Stay, which was made into a major motion picture starring Chloe Grace Moretz.
Her newest novel, Leave Me, is her first one starring adults. (She refuses to say it's an adult novel because she knows plenty of adults read YA and vice-versa).
Gayle lives with her husband and daughters in Brooklyn.
Twitter | Facebook | Website | Goodreads
~~~

Happy Reading!
~~~