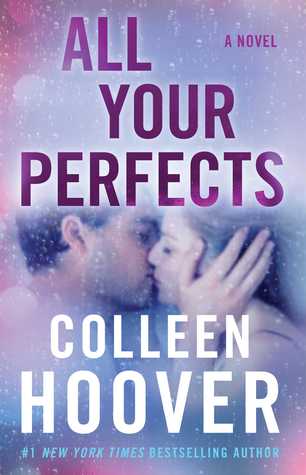 All Your Perfects by Colleen Hoover
Paperback, 359 pages
Published October 3rd 2017 by Atria Books
~Rating: 5/5 stars~
Colleen Hoover delivers a tour de force novel about a troubled marriage and the one old forgotten promise that might be able to save it.
Quinn and Graham's perfect love is threatened by their imperfect marriage. The memories, mistakes, and secrets that they have built up over the years are now tearing them apart. The one thing that could save them might also be the very thing that pushes their marriage beyond the point of repair.
All Your Perfects is a profound novel about a damaged couple whose potential future hinges on promises made in the past. This is a heartbreaking page-turner that asks: Can a resounding love with a perfect beginning survive a lifetime between two imperfect people?
---
~Review~
---
"Sometimes I look at him and feel such an overwhelming appreciation for him, I almost want to write thank-you notes to our exes."
Colleen Hoover is one of best authors I've ever read and her books are always sitting at the top of my recommendations lists for every kind of reader! Colleen Hoover is without a doubt, my favorite author. I haven't read a book from her that I didn't love, that I didn't stay up until 2am so I could finish it, and All Your Perfects is no exception. I read the whole book in one sitting and I couldn't put it down.
"No matter how much you love someone—the capacity of that love is meaningless if it outweighs your capacity to forgive."
All Your Perfects is a heartbreakingly beautiful and realistic story depicting how two people can move from being hopelessly in love at the beginning of their relationship to fighting for each other when times get tough.
Quinn and Graham's love story starts out in an unconventional way. From the moment they met, to when they married, to now, 7 years after that, it's apparent that fate put them together. They are still just as much in love now as they were in the beginning, but things out of their control has changed things for them. Life has a way of doing that. Sometimes love isn't enough, but sometimes, it is. 

All Your Perfects went back and forth from past to present by each chapter. This was brilliant. Just as I thought the present was too much and I needed a break, I got to see a chapter of the past. Of Quinn and Graham blissfully in love. It made the book much easier to read. And seeing their relationship build gave you insight into the couple they were and had become. A couple that was pretty much destined to be together.
"We're all full of flaws. Hundreds of them. They're like tiny holes all over our skin. And like your fortune said, sometimes we shine too much light on our own flaws. But there are some people who try to ignore their own flaws by shining light on other people's to the point that the other person's flaws become their only focus. They pick at them, little by little, until they rip wide open and that's all we become to them. One giant, gaping flaw."
I easily fell in love with Quinn. Everything she was going through, and the way that CoHo wrote about it, felt like such an accurate depiction of depression. I felt for her constantly and my heart is still filled with so much empathy for this fictional character. Such a great character and beautifully written.
Graham, on the other hand, was much harder for me to like. And even though some of his actions were really beautiful and selfless, I never fully loved him because some of his other actions were so nasty and selfish. His mistakes just prevented me from ever rooting for him. Graham does some really abusive stuff in this book that is never told like it's abuse, too.
"I miss you, Quinn. So much. You're right here, but you aren't. I don't know where you went or when you left, but I have no idea how to bring you back. I am so alone. We live together. We eat together. We sleep together. But I have never felt more alone in my entire life."  
BUT seeing these two characters' stories weave and unweave together, apart, and sometimes a weird mixture of the two, made for a really unique reading experience, and one that I thoroughly enjoyed while reading. I know CoHo isn't for everyone, but her writing has always captivated me; just the way she tells stories is so beautiful and poetic in a way.
All Your Perfects is an unforgettable, unputdownable, and completely captivating read. It's a book that will forever leave a mark on my heart. If you're looking for a book to give you all the feels, one that shows the good, bad, and ugly side of marriage and life, but one that will leave you hopeful and believing in true love, pick this book up. It's a journey you need to read to experience.
"I didn't marry you just for the good years. I didn't marry you just for the amazing chemistry we have. And I'd be foolish to think our marriage could last an eternity without a few tough moments. So, while this year has been our toughest yet, I know one thing with complete certainty. I love you more this year than any year that came before it." 
---
~Author Bio~
---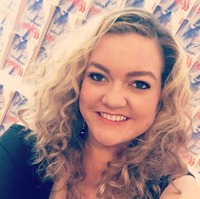 Colleen Hoover is the #1 New York Times Bestselling author of Slammed, Point of Retread, This Girl, Hopeless, Loosing Hope, Fining Cinderella, Maybe Someday, Maybe Not, Ugly Love, Confess, November 9, and It Ends with Us. Colleen has won the Goodreads Choice Award for Best Romance twice-for Confess in 2015 and It Ends With Us in 2016. Confess was adapted into a seven-episode online series. In 2015, Colleen and her family founded The Bookworm Box, a bookstore and monthly subscription service offering signed novels donated by authors. All profits are given to various charities each month to help those in need. Colleen lives in Texas with her husband and their three boys.
~~~
Happy Reading!
~~~