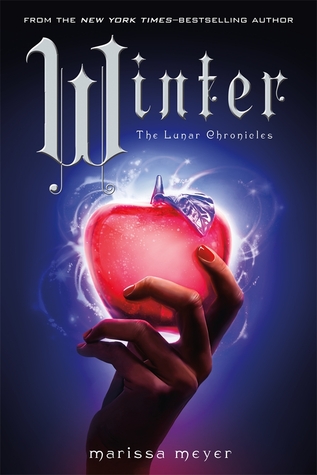 Winter by Marissa Meyer
Hardcover, 1st, 827 pages
Published November 10th 2015 by Feiwel & Friends
~Rating: 5/5 stars~
Princess Winter is admired by the Lunar people for her grace and kindness, and despite the scars that mark her face, her beauty is said to be even more breathtaking than that of her stepmother, Queen Levana.

Winter despises her stepmother, and knows Levana won't approve of her feelings for her childhood friend–the handsome palace guard, Jacin. But Winter isn't as weak as Levana believes her to be and she's been undermining her stepmother's wishes for years. Together with the cyborg mechanic, Cinder, and her allies, Winter might even have the power to launch a revolution and win a war that's been raging for far too long.

Can Cinder, Scarlet, Cress, and Winter defeat Levana and find their happily ever afters? Fans will not want to miss this thrilling conclusion to Marissa Meyer's national bestselling Lunar Chronicles series.
~Review~
WooooW, this book is amazing, and this whole series is really something! World building and the character development throughout the series is unreal.
Marissa Meyer is one hell of an author! I will definitely be reading more from her! I CAN'T BELIEVE IT'S OVER! I was so happy with the way this book went and the way it ended.
Winter was an incredible end to an incredible series. 827 pages long, yet I savored each chapter and page. Every book was paced perfectly. Not one minute did this book get boring. Everything in the book was layered in a perfect way, but this is just my opinion.
I really like how Meyer balances retelling with the traditional story. She gets the amount of each just right, changing up enough to keep it surprising and exciting, but slotting in many parallels to the original stories that often catch me by surprise and make me smile. I also love how far the relationships have come. Lots of funny and touching dynamics, lots of great friendships to remind us that romance isn't everything. Each character is very different, but important in her own way, and together they make a funny, lovable team. I love this world, I loved the dynamics between all the characters. Each character in this book brings something to the table and have their own story and form of bad assess!
This was, the perfect wrap up for this series, delivering a dramatic and bloody climax. There was lots of action, close calls, and lots of crazy. I highly recommend it! I can't wait to get my hands on Heartless and I can't wait to read Renegades!!
Note: I had this scheduled for before the New Year, but it never actually posted, and I haven't had the right time to post this until now.
~~~
~Author Bio~
Marissa Meyer lives in Tacoma, Washington with her husband and three cats. She's a fan of most things geeky (Sailor Moon, Firefly, color-coordinating her bookshelf…), and has been in love with fairy tales since she was a kid, something she doesn't intend  to grow out of. She may or may not be a cyborg. Cinder, her first novel debuted on the New York Times Bestsellers list
~~~

Happy Reading!
~~~