Kingdom of Thieves
by Caroline Peckham & Susanne Valenti
(Forbidden Fairytales #1)
Kindle, 396 pages
Published: May 31, 2019
Genre: YA, Fantasy, Retelling, Romance
Rating: 4.5/5 stars
How to win a Princess:
1. Bring her father unspeakable amounts of wealth to enter a month-long competition.
2. Defeat all other suitors in hand-to-hand combat with your honor intact (and balls – heirs needed).
3. Be revered by every citizen in the kingdom for being a 'hero' amongst men. (Also known as a jackass).
4. Wear the pretty Princess on your arm while occupying her kingdom and claiming a right to the throne she isn't allowed to sit on alone.
Aladdin doesn't care about princesses, or much else for that matter.
The one thing he does care about? Gold.
And when he crosses paths with a traitor of the kingdom, he has a chance to get his hands on more than he ever could have dreamed of.
There's only one rule: he can have everything in the hidden cave except a mysterious lamp.
But Aladdin doesn't do rules. Just like he doesn't do princesses. Although…he's starting to change his mind on the latter.
For fans of Sarah J. Maas and Marissa Meyer, this is an Upper YA fairytale romance, an Aladdin and Rapunzel retelling with a dark twist on the original tales.
---
~Review~
---
*a copy was provided by the authors for review purposes*
So instead I swore with all my heart that I would serve him well. I would grant his wishes and fulfill his dreams and make sure that his life was filled with everything he could ever desire. He owned me, mind, body and soul. And I was his for as long as he wanted.
I love retellings, so I jumped at the chance to read this one! Kingdom of Thieves is an intriguing fairy tale mash-up impressed me in nearly every aspect. A mash-up of Aladdin and Rapunzel, something I never would have thought of but it worked perfectly and not quite how you might guess.
Keeping true to the original tale, we first meet Aladdin who is caught stealing from a noble family and while in prison he meets Cassian, a former Royal Guard, who was charged with the crime 'gazing upon the Princess's face.' Lol Aladdin agrees to free Cassian with the stipulation that he leads him to a cave of great treasures. And in this this cave Aladdin finds the genie's lamp. I bet you could guess what happens next… JK you won't know because it's different, a new fresh twist on Aladdin's tale. It's hard not to spoil it, but I wont! If you like retellings, Aladdin and Repunzel, then you'll just have to read it!
My grip on her tightened as I ached to pull her closer. I wanted to feel her mouth on mine but her gaze flickered with fear and I stopped, a groan nearly escaping my lips as I denied my body the pleasure it craved from her.
All the characters work together, even though they each have their own agendas. Aladdin hopes to rise above his street rat status; he wants to infiltrate the the Kingdom by winning the hand of the Princess and becoming Emperor. Cassian wants to overthrow Gothel, Rapunzel's evil stepmother because she's poisoning the Kingdom with magic. And Rapunzel wants her the freedom she's been longing for, she also wants to save her father from Gothel's influence.
And then there's Kyra, the genie, who I think is one of my favourites, she's great, definitely a fresh take on the role of a genie! She struggles with everyday life after being trapped in the lamp for a very very long period of time. She just wants to grant the wishes of her Master Aladdin without succumbing to the insanity she feels nipping at her heels. Honestly, I can't wait to see what the next installment has to offer, and to see more of Kyra!
"Because fear is the only thing that reminds us we're still alive after all this time."

I loved this twist on old classics and how original it was considering it is a retelling of two popular fairytales that otherwise aren't related. The characters are complex and the storyline is great! I can't wait for the next book. I highly recommend it!
---
~Author Bio~
---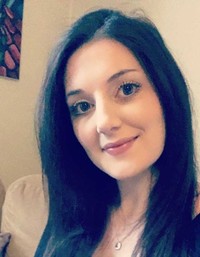 Caroline Peckham is the author of The Rise of Isaac Series and upcoming V Games Trilogy.
Caroline lives in the south-east of London with her best friend and a little rescue cat. When she's not writing, she's binging Netflix shows, going to the gym or at the pub pretending to be cool.
She adores her fans and loves to hear from them personally. She'd love for you to reach out to her on Facebook, Instagram and Twitter!
Twitter | Facebook | Website | Goodreads
~~~
Susanne Valenti lives in Kent, England with her husband Richard and their daughter Riley and son Roman. She has two cats and has worked in animal rescue as well as the family business. She enjoys all things fictional and wants to create stories that give the reader a real sense of love, friendship and adventure with a good twist of the unknown thrown in.
~~~
Happy Reading!
~~~