Eternal Storm
by Caroline Peckham & Susanne Valenti
(Age of Vampires, #6)
Kindle, 514 pages
Published April 25, 2019
Rating: 4/5 stars
A dark storm draws closer as Erik and Magnar are lost to the hands of the new queen.
Callie and Montana race south in a desperate bid to reach the holy mountain to break the curse, but with Valentina hot on their heels, it's only a matter of time before she catches up.
Can the twins find a way to overcome the trials that are thrown their way? Or will the gods prevail once and for all…
The series will conclude in Book 7, Eternal Love.
WARNING: this is upper YA with sex scenes, battles and mild peril.
---
~Review~
---
*a copy was provided by the author*
"We've done too many wrongs against each other. We're enemies. And that's always the way it's going to be."
Just when you think nothing else terrible can happen it does! The characters continue to surprise me and the way they have grouped together prove a formidable force. I love these characters, the trials and struggles. I don't want to stay too much…but these ladies really know how to leave the reader hanging with endings that you would never ever see coming.
Eternal Storm is the sixth book in the Age of Vampires series and it was addicting, I read it in one sitting. The twists and turns that Caroline and Suanne create are so mind blowing. 
"I was his."
"He was mine."
"And the idea of losing him made e feel as weak as if a thousand suns were beating down on my back."
Erik and Magnar are trapped within the hands of the new queen, Valentina, while their loved ones will stop to no end to get revenge. While Callie and Montanna desperately race south to reach the holy mountain to break the curse but Valentina is hot on their heels. The sisters must overcome the trails that are thrown in their way and save the men they love before it's too late.
This book was a bit less action filled and slower compared to the other books. I enjoyed how the characters were able to have fun and time to themselves even for one night before being thrown back into their never-ending chaos!
"Angelica," Valentina addressed her, smoothing down the creases in her jumpsuit. "Any more word from the base?"
"No," Angelica answered. "I tried calling but there was no answer."
This whole story-line is so unique, and the creativity behind the characters and the plot is just great! So much has happened since the first novel, and these characters have grown so much. That's why I've really been loving Caroline's books, they're so different and unique, she is definitely an author to look out for! I've never read anything from Susanne, other than this series so far, but I'm looking forward to more from her. 
This series is something to look out for… SERIOUSLY. You will be hooked from book one, and its hold on you until the very end. That cliff-hangar, got me so shook. These books truly have the most intense cliffhangers! This book was so heartbreaking and heartwarming at the same time!! I highly recommend it!  
And I'm sooo happy that I just (May 9) started reading the 7th book, Eternal Love, review soon!! 
---
Eternal Reign | Review | Goodreads
Eternal Shade | Review | Goodreads
Eternal Curse | Review | Goodreads
Eternal Vow | Review | Goodreads
Eternal Night | Review| Goodreads
Eternal Storm | Review |Goodreads
Eternal Love | Review| Goodreads
---
~Author Bio~
---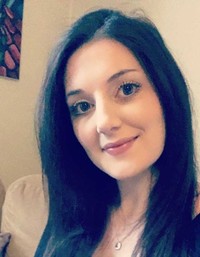 Caroline Peckham is the author of The Rise of Isaac Series and upcoming V Games Trilogy.
Caroline lives in the south-east of London with her best friend and a little rescue cat. When she's not writing, she's binging Netflix shows, going to the gym or at the pub pretending to be cool.
She adores her fans and loves to hear from them personally. She'd love for you to reach out to her on Facebook, Instagram and Twitter!
Twitter | Facebook | Website | Goodreads
~~~
Susanne Valenti lives in Kent, England with her husband Richard and their daughter Riley and son Roman. She has two cats and has worked in animal rescue as well as the family business. She enjoys all things fictional and wants to create stories that give the reader a real sense of love, friendship and adventure with a good twist of the unknown thrown in.
~~~
Happy Reading!
~~~