Eternal Shade
by Caroline Peckham & Susanne Valenti
(Age of Vampires, #2)
Kindle, 235 pages
Published March 29, 2019
Rating: 4/5 stars
While Callie closes in on the blood bank in the hopes of rescuing her family, Montana accepts the dangerous task of spying on one of the vampire royals.
On the east coast more deaths arise in New York City and Montana soon realises she's at the heart of an assasination plot. But if she doesn't work out who her enemies are fast, she could be their next target.
On the west coast, Callie struggles with her newfound feelings for Magnar. And as she grows stronger, more capable and ready to bring down the blood bank, she realises her time with him could soon be up.
In the second instalment of the Age of Vampires Saga, two sisters must risk it all to protect each other and try not to fall for their dangerous companions along the way…
---
~Review~
---
*a copy was provided by the author*
"That's what I like about you, Rebel. Zero ass-kissing. Although if you fancy putting your mouth anywhere else on my body tonight, you only need to ask." 
I don't even know where to start. Eternal Shade is the second book in the Age of Vampires series and continues the story of Montana and Callie. This novel was addicting, I read it in one sitting. It was such a good sequel, so well written and fast paced. So much happens in this book and it's hard to figure out who's telling the truth and who's lying…🤔
The characters grow and adapt so much. Callie, the Daughter of the Sun, is steadfast in her journey to find the blood bank where she believes her father and sister are being held captive. She struggles between following her "duty" and training to become a warrior or following what her heart wants and finding her family–a classic conflict that ultimately pushes her to a breaking point. But her character grew more confident and seems to rely on fear instead of letting it control her.
Montana, the Moon Child, faces her own battles as she is thrust into the deadly game of vampire politics and is forced to face her new and unwanted feelings for a certain Royal. I was once again completely captivated by Montana's story of deceit, uncertainty, and surprises. Montana faces new threats on her life while attempting to uncover just what the vampires want with humans in the first place–an unsettling reality that also pushes her to a breaking point. She's my favourite out of the two, she's strong and brave, and her character has lots of depth.  
"If he kisses me it will break my heart when he leaves. If he doesn't kiss me I don't think I can bear it."
This whole story-line is so unique, and the creativity behind the characters and the plot is just great! That's why I've really been loving Caroline's books, they're so different and unique, she is definitely an author to look out for! I've never read anything from Susanne, other than this series so far, but I'm looking forward to more from her. 
This series is something to look out for… SERIOUSLY. That cliff-hangar, got me so shook. I'm sooo looking forward to book 3, Eternal Curse. I WANT MORE!!! haha I highly recommend it!
---
Eternal Reign | Review | Goodreads
Eternal Shade | Review | Goodreads
Eternal Curse | Review | Goodreads
Eternal Vow | Review | Goodreads
Eternal Night | Review| Goodreads
Eternal Storm | Review |Goodreads
Eternal Love | Review| Goodreads
---
~Author Bio~
---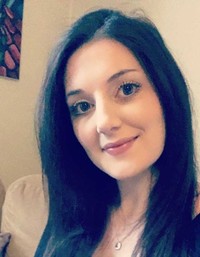 Caroline Peckham is the author of The Rise of Isaac Series and upcoming V Games Trilogy.
Caroline lives in the south-east of London with her best friend and a little rescue cat. When she's not writing, she's binging Netflix shows, going to the gym or at the pub pretending to be cool.
She adores her fans and loves to hear from them personally. She'd love for you to reach out to her on Facebook, Instagram and Twitter!
Twitter | Facebook | Website | Goodreads
~~~
Susanne Valenti lives in Kent, England with her husband Richard and their daughter Riley and son Roman. She has two cats and has worked in animal rescue as well as the family business. She enjoys all things fictional and wants to create stories that give the reader a real sense of love, friendship and adventure with a good twist of the unknown thrown in.
~~~
Happy Reading!
~~~