Hunter Trials
by Caroline Peckham
(The V Games, #7)
Season 3: Book 1
Kindle, 250 pages
Expected publication: December 14th 2018
Rating: 4/5 stars
When Mercy Helsing is convicted and sent to an Immortal prison deep in the Arctic Circle, she doesn't expect to survive longer than a day.
Thrown into the depths of the icy fortress, she's forced to fight for her life again and again in terrifying trials. But Dødstårn is nothing like she expected, and she soon finds unlikely friends amongst the fierce convicts. And the man she entered the prison with has her back in every test she faces.
But when girls start being murdered in the prison, Mercy has to work fast to figure out who her enemies are. Before the killer turns their attention to her…
---
~Review~
---
*a copy was provided by the author*
V Games: Season 3: Hunter Trials is finally here and WOW, WOW, WOW!
Honestly, every book in The V Games is so well written, action packed and fast paced! I'm just blown away by this series; It just keeps getting better.
Hunter Trials is the beginning of Season 3, it shines the light on Mercy Van Helsing, a hunter.  
Mercy has grown sooo much as a character since she was first introduced in the first season, and she's growing on me. She's grown into this complex character that has so much depth, from someone who did exactly what her mother told her to do and willingly turned a blind eye to the horrors of her family's ways to something completely opposite she's growing up and finally realizing she was never really like her family. The Hunter Trials was a whole new experience for her, she's a Helsing and she knows she's got what it takes, even if she doubts herself. I'm just realizing now how strong she really is. It's nice to see a whole new side of her, since the tables have turned and she's now in her own type of games, we get to finally see just what Mercy is made of and how far she'll go before she breaks…
One thing that was kinda confusing was all the Silas & Kate's parts. I know it's kinda a continuation of what happened in Wolf Games: Severed Fate, but it just felt awkward, since it was smack right in the middle of Mercy's story. I feel like it could have been integrated a bit better.
It's going to be torture waiting for book 2 of the Hunter Trials, but It'll be worth the wait. Caroline Peckham is brilliant. Such a well written and fast-paced series! I highly recommend it!
---
Season 1:
V Games: Fresh from the Grave | Review |Goodreads
V Games: Dead Before Dawn | Review |Goodreads
Season 2:
Wolf Games | Review |Goodreads
Wolf Games: Island of Shade | Review |Goodreads
Wolf Games: Severed Fate | Review |Goodreads 
Season 3:
Hunter Trials | Review |Goodreads 
---
~Author Bio~
---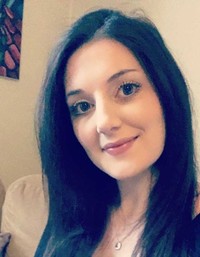 Caroline Peckham is the author of The Rise of Isaac Series and upcoming V Games Trilogy.
Caroline lives in the south-east of London with her best friend and a little rescue cat. When she's not writing, she's binging Netflix shows, going to the gym or at the pub pretending to be cool.
She adores her fans and loves to hear from them personally. She'd love for you to reach out to her on Facebook, Instagram and Twitter!
Twitter | Facebook | Website | Goodreads
~~~
Happy Reading!
~~~