Wolf Games: Severed Fates by Caroline Peckham
(The V Games, #6)
Kindle Edition, 289 pages
Published: November 13th 2018
Rating: 5/5 stars
The finale to Season 2 of The Vampire Games
One fate torn in two.
When Cass is moved from the African institute, she soon realises her captor isn't the only one trying to keep her prisoner. Plunged into a new world of deadly games in a place that makes her nightmares come to life, can she find a way to escape? And when her fate collides with Jameson's once again, can she find a way to bring him back and save him from the clutches of his black-hearted pack leader? Or are they doomed to be separated forever?
---
~Review~
---
*a copy was provided by the author*
Wow. I can't even right now. Every book in The Vampire Games is so well written, action packed and fast paced! I'm just blown away by this series; It just keeps getting better. I loved the first five books in the series, but this one just tied up  Season 2 perfectly. I'm soo excited for Season 3 (The Hunter Trials)!
Wolf Games: Severed Fates is the finale in the second season of The Vampire Games and continues the story of Cass and Jameson. It picks up immediately following the events of book 5, Wolf Games: Island of Shade.  I absolutely adore Cass and Jameson. They have been through so much together and apart, and their journey back to one another was a roller-coaster, and what a ride it was! Jameson is by far my favorite character
I love the characters and I love that every season is about different main characters. But I also love that we still get to read in Selena's and Varick's perspective because they are still present in the Wolf Games books.
It's going to be torture waiting for the next Season to start, but It'll be worth the wait. Caroline Peckham is brilliant. Such a well written and fast-paced series! I highly recommend it!
---
Season 1:
V Games: Fresh from the Grave | Review |Goodreads
V Games: Dead Before Dawn | Review |Goodreads
Season 2:
Wolf Games | Review |Goodreads
Wolf Games: Island of Shade | Review |Goodreads
Wolf Games: Severed Fate | Review |Goodreads
---
~Author Bio~
---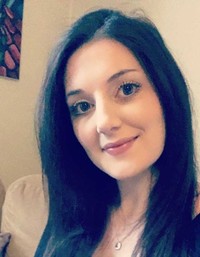 Caroline Peckham is the author of The Rise of Isaac Series and upcoming V Games Trilogy.
Caroline lives in the south-east of London with her best friend and a little rescue cat. When she's not writing, she's binging Netflix shows, going to the gym or at the pub pretending to be cool.
She adores her fans and loves to hear from them personally. She'd love for you to reach out to her on Facebook, Instagram and Twitter!
Twitter | Facebook | Website | Goodreads
~~~
Happy Reading!
~~~