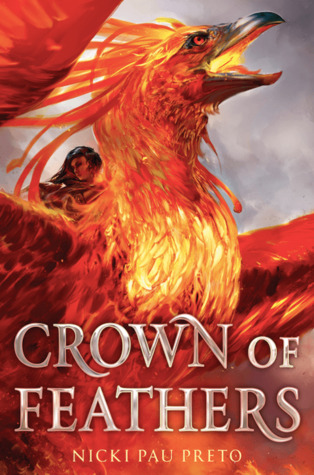 Crown of Feathers by Nicki Pau Preto
Hardcover, 496 pages
Expected publication: February 12th 2019 by Simon Pulse
~Rating: 5/5 stars~
Goodreads
I had a sister, once…
In a world ruled by fierce warrior queens, a grand empire was built upon the backs of Phoenix Riders—legendary heroes who soared through the sky on wings of fire—until a war between two sisters ripped it all apart.
I promised her the throne would not come between us.
Sixteen years later, Veronyka is a war orphan who dreams of becoming a Phoenix Rider from the stories of old. After a shocking betrayal from her controlling sister, Veronyka strikes out alone to find the Riders—even if that means disguising herself as a boy to join their ranks.
But it is a fact of life that one must kill or be killed. Rule or be ruled.
Just as Veronyka finally feels like she belongs, her sister turns up and reveals a tangled web of lies between them that will change everything. And meanwhile, the new empire has learned of the Riders' return and intends to destroy them once and for all.
Sometimes the title of queen is given. Sometimes it must be taken.
---
~Review~
---
*a copy was provided by NetGalley*
'False sisters.
Shadow twins'
Omg. I LOVE this book. The world building, vivid descriptions, the compelling and complex characters, the bond between the phoenixes and their riders, romance and  history of the Phoenix Riders, and backstory, was on point. There are a few different POV's but they're easy to follow, also, at the end of each chapter we get an insight to what Avalkyra Ashfire is thinking, which I'm just realizing now after re-reading the ones I highlighted. 
It was just perfect, it was everything.  It's going to take me a while to get over this one. This is easily the best debut book I've read this year. I cant wait to read more from this author!
That was the day her loss became my victory, and everything changed between us.
I'll be honest, some parts were a little confusing, but you HAVE to read til the end, everything will make sense, because the freaking EPILOGUE literally ties the book together, it's so cleaver and perfect…. did I mention PERFECT? It's going to really hard for me not to spoil anything… argghhh
When Veronyka's 'sister' Val comes home with two phoenovo (Phoenix eggs) only one makes it, and it bonds with Veronyka instead, and not Val, who was the one raising it during incubation. Val isn't happy when that happens, she completely changes, she feels angry and cheated, because she wanted the phoenix to be hers… and we get to see why, later in the book.
"I think I'll name her Xephyra." Val's eyes narrowed. She stared at Veronyka for a long moment, before crossing her arms and looking up thoughtfully. "'Pyr' means 'fire' or 'flame' in Pyraean. Coupled with 'xe' . . ."
"Sweet Flame," Veronyka said, still running her fingers along her drowsy bondmate's silky feathers.
"Or Flame Sister," Val corrected, given that the prefix could also mean "brother" or "sister," based on the gender of the name.
But, certain events occur, that make Veronyka not want to be around Val, so she leaves her sister in search of more eggs, and other animages (animal magic; people who can control animals with magic), but she isn't allowed to join them to train to be a rider.
Why?
Because she's a girl, and at the time there were hardly any eggs left so they only let the boys train, so Veronyka disguises herself as a boy, and calls herself Nyk.
Veronyka stared down at the bow, her heart soaring. He was giving her the chance she so desperately wanted, the opportunity to truly become a part of this world. After what had just happened, she needed it more than ever.
And she does get to train with Tristan, the commanders son. And she teaches him things, and they form this relationship. I mean she's Pheronia's daughter, her magic is so powerful! And we get to see that during her 'training' with Tristan.
But when Val finds her, she brings Xephyra, which she thought was dead. But she doesn't give up that she's bonded to Xephyra, at least not yet, at this point everyone just thinks she's really good at controlling the animals.
He bit the inside of his cheek, and Veronyka could swear he was fighting to keep a pleased smile off his face. "It doesn't change anything for me, you know," he said, still not looking at her. "Boy, girl―it doesn't matter. You're you, and that's all I care about."
They do end up realizing that she's Veronyka, not Nyk, but they don't have too much of an issue with it, they still let her train, but Val gives her an ultimatum,
'you have to choose your side, make the right choice'
Val, shows her the past, and Veronyka realizes who Val really is; Avalkyra Ashfire. But she thinks she's Pheronia, but is not remembering that life.
Hmmm, judging from the epilogue, there's going to be a book two, and it's going to be epic. YOU NEED TO GET THIS. I highly recommend it!
---
~~~
---
~Author Bio~
Nicki is a YA fantasy author living just outside Toronto, Canada. After getting a degree in visual arts, a masters in art history, and a diploma in graphic design, Nicki discovered two things: she loves to escape the real world, and she isn't interested in a regular 9-5 life. Luckily, her chosen career covers both.
Her YA fantasy debut CROWN OF FEATHERS is coming February 12, 2019 from Simon Pulse.
Twitter | Instagram | Goodreads
~~~

Happy Reading!
~~~