Wolf Games: Island of Shade by Caroline Peckham
(The V Games, #5)
Kindle Edition
Published September 14th 2018
~Rating: 4.5/5 stars~
After the foundering of IDAHO's cruise ship, the survivors are washed up on a deadly island off the coast of northern Africa. But in a jungle of shade, it's not just the Reapers lurking in the forest that pose a danger…
Journeying to an underground institute at the heart of the island might be Cass and Jameson's only hope. But with Ulvic Hund hunting them down alongside his newfound companion, Rockley Jones, time is of the essence. And they soon have no choice but to face the deadly security system on the island to get to safety. Even if that means placing their lives in the hands of Silas Madigan.
---
~Review~
---
*a copy was provided by the author*
Wow! I'm just blown away by this series; It just keeps getting better. I loved the first four in the series, I thought the fourth book was my favourite but this one just.. wow. I'm soo excited for the next book!
Wolf Games: Island of Shade  is the fifth book in The Vampire Games series and continues the story of Jameson and Cass. This story picks up right where the last installment left off., after the cruise ship broke, Jameson, Cass and Silas are stranded on a dangerous island and are trying to survive, which isn't easy when Ulvic is hunting them down…The island has tons of dangers and creatures to chase and kill the survivors. The action never ends.
These characters find themselves in all different kinds of situations that are terrifying and pulse pounding. I was at the edge of my seat the entire time, and I literally devoured it in one sitting. I had to. I needed to know what was going to happen to my favourite characters. Also, I loved seeing Varick and Selena, two of my favourite characters, even if it was very brief because until this point they had no idea their friends were in danger.
It's going to be torture waiting for the next book. This one has just about everything you could hope for in a book, action, adventure, romance, vampires, werewolves. Caroline Peckham is brilliant. Such a well written and fast-paced series! I highly recommend it!
---
~Author Bio~
---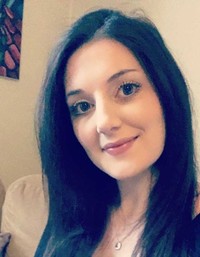 Caroline Peckham is the author of The Rise of Isaac Series and upcoming V Games Trilogy.
Caroline lives in the south-east of London with her best friend and a little rescue cat. When she's not writing, she's binging Netflix shows, going to the gym or at the pub pretending to be cool.
She adores her fans and loves to hear from them personally. She'd love for you to reach out to her on Facebook, Instagram and Twitter!
Twitter | Facebook | Website | Goodreads
~~~
Happy Reading!
~~~