Wolf Games by Caroline Peckham
(The V Games, #4)
Kindle Edition
Published August 3rd 2018
~Rating: 4.5/5 stars~
After the trials of the V Games have come to an end, peace has fallen over The Sanctuary for Immortal beings. But for Jameson and Cass, their troubles are only just beginning. On the verge of their happily ever after, their world is torn apart, forcing the two lovers on separate paths. And with both of their hearts broken in the process, they have to find a way to live on without one another. Whilst Jameson sets off on a quest to save his Werewolf pack members from a madman, Cass is thrust into the arms of a new and dangerous enemy. An enemy who seeks not only her cooperation in his plans, but also, her heart…
In the explosive new season of The Vampire Games, Wolf Games follows Jameson and Cass on a journey of death, romance, betrayal, and a dark force more fearful than the enemies of their past. Can they overcome the trials that are set to befall them, or is it time they accepted their inevitable fates?
~Review~
*a copy was provided by the author*
Wow! I'm just blown away~ I loved the first three in the series, but I think this is my favourite so far. But seriously this serious just gets better and better, I'm soo excited for the next book!
Wolf Games is the fourth book in The Vampire Games series and continues the story of Jameson and Cass. At this point, The V Games are over and now they are living in The Sanctuary until some thing happens that Jameson has to leave with Ulvic. And Cass was captured by IDAHO. I dont want to give too much away! But omg, so many plot twists, that will make you want to not stop reading. 
I loved the alternating POVs. Jameson is so much fun and has such a big ego, in a funny way. Cass one of my favourite characters,  she is so strong-willed but at the same time she is so broken; she has a great personality. Jamesons and Cass are literally perfect for each other; hehe they're adorable.
I loved the introduction of new characters and creatures that are complicated, and complex. Ah I want more already….I won't be sleeping any time soon until I know what is going to happen next.

This one has just about everything you could hope for in a book, action, adventure, romance, vampires, werewolves. Caroline Peckham is brilliant. Such a well written and fast-paced series! I highly recommend it!
~~~
~Author Bio~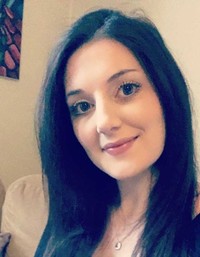 Caroline Peckham is the author of The Rise of Isaac Series and upcoming V Games Trilogy.
Caroline lives in the south-east of London with her best friend and a little rescue cat. When she's not writing, she's binging Netflix shows, going to the gym or at the pub pretending to be cool.
She adores her fans and loves to hear from them personally. She'd love for you to reach out to her on Facebook, Instagram and Twitter!
Twitter | Facebook | Website | Goodreads
~~~
Happy Reading!
~~~