V Games: Dead Before Dawn by Caroline Peckham
(The V Games, #3)
Kindle Edition
Published May 11th 2018
~Rating: 5/5 stars~
After the explosive breakout on the Isle of Lidelse, Selena and Varick have made it to safety. But the Helsings are already plotting their revenge and will hunt them to the ends of the earth to have it. Selena must rely on new allies as well as old to remain safe, but trust is not a thing she finds easy anymore.
Soon, she's forced to decide whether to fight or keep running. But can she stay out of this war, even when whispers of a new game reach her ear? Can she continue to let the Hunters brutally kill girls for the sake of entertainment? Or is it time for her to rise up and put a stop to the games once and for all?
~Review~
*a copy was provided by the author*
AHHH! This was the perfect ending to this trilogy! After reading and LOVING the first two books, I absolutely needed to read this! And let me tell you I just DEVOURED this novel!!!
As I mentioned in my reviews of the first two books, I haven't read a GOOD vampire/supernatural book in forever; this one is a very unique vampire book! And I mean it, it's very different; this trilogy so far is something else! I don't know why, but I'm so amazed and I feel happy; the first two books have brought me so much joy! Vampire/supernatural/fantasy books are one of my favourite genres and not all are as unique as this. One thing I really liked was the different POVs, I always love when authors do this! I love, love, love knowing what's going through all the characters minds! 
When the moon reigned, I could love her as she deserved to be loved. But unless the sun decided to let me walk in its burning light once more, I would only be able to kiss her half as often as often as I wished to. –Varick
This was such an emotional rollercoaster of a finale! Oh my! om the very beginning, you could tell that the ~tone~ of this novel was different–there was so much more at stake as the characters loved harder, fought more brutally, hurt more completely, cried more uncontrollably, and bled me completely dry.
Selena and Varick are back and better than ever. We also get more of Cass, Kite, Ulvich, Jameson and Mercy. Things will not always play out the way you think they will. I think one of the best things about a well told story is the ability to shock and awe the reader. There are many points within this book where I could not have predicted what was going to happen next and was literally gasping!
But during all of it, they could never have predicted, I could never have predicted, that I'd find love. Find something worth facing death for every day.
V Games: Dead Before Dawn was literally the perfect ending! I just cannot say it enough! Selena and Varick once again battle the Helsing Family with help from their friends. When the news of a new game being held Selena and Varick can't rest until they bring the whole system down. They are heading back into danger at the most dangerous place, the result on Oyafrelse island, which is owned by Rockley, one of the most vile men who run the games in a resort type style.
If the games had taught me anything, it was that killing was sometimes the easy option.
So much action in one book! Vampires, humans, werewolves and more! I stand by my previous reviews saying this series is like The Hunger Games with Vamipres, but this conclusion is so much more!
If you enjoy vampire stories, or if you are a fan of books like The Hunger Games, if you enjoy a good paranormal story, you are going to love this series. I am VERY excited for the spin off series the author has hinted at!  I highly recommend reading this series!
~~~
~Author Bio~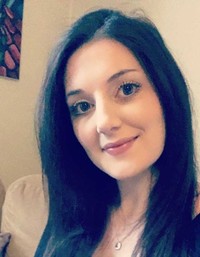 Caroline Peckham is the author of The Rise of Isaac Series and upcoming V Games Trilogy.
Caroline lives in the south-east of London with her best friend and a little rescue cat. When she's not writing, she's binging Netflix shows, going to the gym or at the pub pretending to be cool.
She adores her fans and loves to hear from them personally. She'd love for you to reach out to her on Facebook, Instagram and Twitter!
Twitter | Facebook | Website | Goodreads
~~~
Happy Reading!
~~~