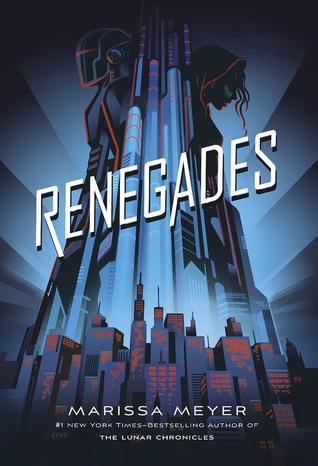 Renegades by Marissa Meyer
(Renegades #1)
Hardcover, 556 pages
Published November 7th 2017 by Feiwel & Friends
~Rating: 5/5 stars~
Secret Identities. Extraordinary Powers. She wants vengeance. He wants justice.
The Renegades are a syndicate of prodigies — humans with extraordinary abilities — who emerged from the ruins of a crumbled society and established peace and order where chaos reigned. As champions of justice, they remain a symbol of hope and courage to everyone… except the villains they once overthrew.
Nova has a reason to hate the Renegades, and she is on a mission for vengeance. As she gets closer to her target, she meets Adrian, a Renegade boy who believes in justice — and in Nova. But Nova's allegiance is to a villain who has the power to end them both.
~~~
~Review~
"There's no rule that says you have to be a prodigy to be a hero," she insisted. "If people wanted to stand up for themselves or protect their loved ones or do what they believe in their hearts is the right thing to do, then they would do it. If they wanted to be heroic, they would find ways to be heroic, even without supernatural powers."
Wow!!! This book was SOOOO good. I can't even explain it. Renegades is actually the first book I've read about superheroes and villains. As soon as I read the introduction and then the prologue of Renegades, I was hooked.
Renegades is a novel about superheroes, villains, secret identities and humanity. It gives you both points of view: the one of those who should be good and the one of those who should be bad.
"For the record, while it's very charming that you keep trying to protect me, I would like to remind you that I actually know how to defend myself."
He grimaced. "I know. It's just… instinct."
"Well, stop it."
He held his hands up. "Won't happen again." He hesitated. I mean, unless I'm pretty sure you're about to die, then I'm absolutely going to rescue you, whether you like it or not."
The main character of the book, Nova (Nightmare), an Anarchist, which is considered a bad group of guys to the public. She sees the Renegades as the bad guys though, and is determined to take them down for the controlling-superheroes they are. She poses as a Renegade to gain inside information so that she can get her revenge against them. I loved how not only Nova leads a double life, but Adrian, who is a Renegade, has a secret of his own. Renegades is incredibly complex, and I can't begin to tell you how much I loved it. There is spying, suspense, and plenty of action in this book, making it a unique take on the good vs. evil trope.
I found the plot for Renegades to be incredibly complex. Not in the way that it was difficult to understand, more so that I found it so mind-blowingly intricate and I felt as if there were so many clues in the text for what is to come if you're keeping an eye out for them. Truly, this plot is incredible. It's been a while since I've been invested in a plot as much as this one. I cannot wait to see what the author is going to do with the rest of the series!
"There are many dangerous people in this world. but there are also many good people. Brave people. No matter how bad things get, we have to remember that. So long as there are heroes in this world, there's hope that tomorrow night might be better."
Renegades is an original book about a villain posing as a hero. The characters were so rich and diverse, and Meyers did an amazing job of adding just enough description to really bring each of them to life in their own way! The powers were so different and so much fun! I loved the writing, as always with Marissa Meyer, and I would definitely recommend this book to everyone—superhero fan or not.
~~~
~Author Bio~
Marissa Meyer lives in Tacoma, Washington with her husband and three cats. She's a fan of most things geeky (Sailor Moon, Firefly, color-coordinating her bookshelf…), and has been in love with fairy tales since she was a kid, something she doesn't intend to grow out of. She may or may not be a cyborg. Cinder, her first novel debuted on the New York Times Bestsellers list
~~~

Happy Reading!
~~~