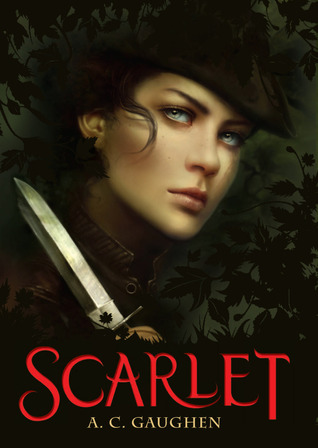 Scarlet by A.C Gaughen
Hardcover, 287 pages
Published February 14th 2012 by Walker Childrens
~Rating: 4/5 stars~
Will Scarlet is good at two things: stealing from the rich and keeping secrets – skills that are in high demand in Robin Hood's band of thieves, who protect the people of Nottingham from the evil sheriff. Scarlet's biggest secret of all is one only Robin and his men know…that she is posing as a thief; that the slip of a boy who is fast with sharp knives is really a girl.

The terrible events in her past that led Scarlet to hide her real identity are in danger of being exposed when the thief taker Lord Gisbourne arrives in town to rid Nottingham of the Hood and his men once and for all. As Gisbourne closes in a put innocent lives at risk, Scarlet must decide how much the people of Nottingham mean to her, especially John Little, a flirtatious fellow outlaw, and Robin, whose quick smiles have the rare power to unsettle her. There is real honor among these thieves and so much more – making this a fight worth dying for.
~Review~
After reading the dialect I wasn't sure if I would continue reading. The first few chapters were slow but sure enough, I stopped noticing the dialect and I was sucked into the story.  Scarlet was an adventurous story that was filled to the brim with excitement and hardships at many turns; it was really fun to read!!
This is the first Robin Hood retelling I've read and I thought the author did a great job at making it her own!
I swallowed. "We watch each others' backs."

He nodded. "Precisely."
My favourite change to this story is the addition of a female in Robin Hood's group.  She goes by Will Scarlet or Scar as they call her.
Scarlet is a thief and a liar and about twenty different kinds of deadly with her knives. And she's loyal to one person on this earth and one person only–Robin Hood. Also known as Robin of Locksley or (less commonly now) the Earl Huntingdon, Robin gave her a place and a hood to hide behind when Scarlet needed it the most, and now she forms an integral member of his band in Sherwood Forest. Standing up to the ruthless Sheriff of Nottingham, Robin, Scarlet, and the lads (Little John and Much) are determined to spare the good folk of Nottinghamshire from the sheriff's wrath for as long as it takes.
He caught my wrist before I were full out the door.

"Scar," he said, rough, like rocks were running over his tongue. "I have done so many unforgivable things in my life. Don't let failing to save you be another."
Outside of her three comrades, only a few have any idea Scarlet is a girl. The boys refer to her as Will, and she has no intention of disobliging anyone of that particular notion. You see, Robin is not the only one with demons in his past. And when the sheriff goes and hires the dreaded Guy of Gisbourne to hunt down the Hood and his band, Scarlet knows her days may at last be numbered. It's only a matter of time before her past catches up with her, and then even Robin's protection may not be enough to keep her from the hangman's noose.
"You are my whole heart, Scarlet. And this is breaking it.'

My heart cracked open and clear dropped out of me. My mouth opened, and I looked round me and stamped my foot. 'Does this look like a good time to tell me that, you damn stupid boy?' I meant to sound mean but my voice wobbled. 'Now?'

He gave a little smile. 'My foul-mouthed warrior." 
Honestly though, my favourite was the romance. I was just so, so, sooooo torn between John Little and Robin. I won't tell you who she chooses, but I will say that I was extremely, satisfied with her choice. And every scene she spends with that boy had my heart pounding and my lips grinning.
He grabbed my arms, bringing me close to his face, and his eyes looked like the ocean, deep and dark and full of things I knew nothing 'bout. "We don't lie to each other, Scar. Especially not about things that mean I might lose you."

My breath froze in my chest. Did he just say that?

He let me go. "Because losing one member would put the whole band at risk. Do you understand?"
Scarlet is filled with action, adventure, and just the right amount of romance. It really is the perfect blend. Don't let the dialect scare you away. After the first couple of chapters you hardly notice it, and if I can make it through, anyone can. I highly recommend it!
*Quotes were taken from the Book*
~~~
~Author Bio~
A.C Gaughen is the author of the Scarlet Series: Scarlet, Lady Thief, and Lion Heart. She serves the Director of Girls' Leadership for the nonprofit Boston GLOW, creating opportunities to encourage and engage teen girls in the Greater Boston Area. She has a Master Degree in creative writing from the University of St. Andrews in Scotland and a Masters in education at Harvard University.
~~~

Happy Reading!
~~~