The Vanishing Spark of Dusk by Sara Baysinger
ebook
Publication: January 8th 2018 by Entangled TEEN
~Rating: 5/5 stars~ 
Stand up. 

When Lark is stole

n from Earth to be a slave on the planet Tavdora, she's determined to find her way back home to her family, no matter the cost. Placed in the household of a notorious slave trader, Lark quickly learns her best assets are her eyes and ears. And if she's brave enough, her voice.

Be heard. 

Kalen is the Tavdorian son of a slave trader and in line to inherit his father's business. But his growing feelings for Lark, the new house slave who dares to speak of freedom, compel him to reveal his new plan for the slave ships returning to Earth—escape. Together, they just might spark a change that flares across the universe.

Fight back.
~Review~
*a copy was provided by NetGalley*
Wow! I came expecting one thing and got another! This story was a whirlwind of adventure with a love story written in the stars, that will sweep you off your feet.
A story you will enjoy reading for sure. A page turner that will make you read through the night.
So many topics were hit in this story that are so relevant to the issue of race, gender, and self-sacrifice. Lark and Kalen's story was one of the most powerful things that hit home. Though some parts were quite steamy, their relationship is simply beautiful. I won't go into detail of exactly how (because major spoilers), but the author did a fantastic job of showing how incredible real love is.
Lark lives with her mother and the rest of the community in relative harmony and blissful ignorance. Her brother left a few years before to join an army in Colorado to fight slavery. Lark didn't really understand. She is happy with her boyfriend Josiah- until she learns that he hasn't been truthful with her during their relationship and betrays her, leading to the death of her friend. Sold into slavery, she is protected by a Tavdorian she met briefly before being betrayed- Kalen. Lark fights to secure her freedom and avenge her friend's death, but she soon learns it is futile to fight in this way. Never losing her spirit, Lark becomes the slave for Kalen whose family owns an importing company- whose largest import has recently become slaves.
One thing that really stood out to me was the realism. The world building in The Vanishing Spark of Dusk was also fantastic. I thought Sara did such a wonderful job of creating the world of the Tavdorian. It was so easy to picture their planet, and better yet, I loved the level of detail and spice she gave to it – it wasn't the standard fantasy space world by any means. Lark is taken to another planet, but some of the things that she says or happens really blew me away. It made her very much a character I could sympathize with. Not only that, the world of Tavdora was very engaging and felt like I was really there. I wish the author would have given more details into how the Tavdorians actually overtook Earth. Maybe she'll write a novella on for this world? I was curious about when it all began, how did the government fall, etc. But maybe I'm just being hopeful.. 
The plot in The Vanishing Spark is full of action and romance. There's so much at play here – rebel groups, evil men, space journeys, and a divided family. I couldn't flip the pages fast enough! I just wanted to know everything! The romance was steamy. Lark and Kalen had such a great dynamic – I loved how they constantly would push at each other's buttons. Plus their ending was sooooo freaking adorable.
I think I've found a new favourite author and I can't wait to read more from her! I highly recommend reading this one! The Vanishing Spark of Dusk by Sara Baysinger comes out today, I can't wait to buy my own copy! 😀
~~~
~~~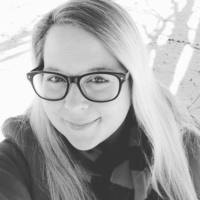 ~Author Bio~
Sara was born in the heart of the Andes Mountains in Ecuador where she spent her early life exploring uncharted lands and raising chickens. She now makes her home among the endless cornfields of Indiana with her husband and two children…and she still raises chickens. Her dystopian novel BLACK TIGER was self-published in 2016. When not getting lost in a book, Sara can be found gardening, devouring chocolate, and running off the sugar-high from said chocolate. You can visit her online at www.sarabaysinger.com.
~~~

Happy Reading!
~~~