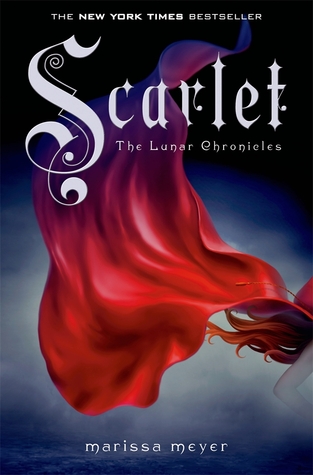 Scarlet by Marissa Meyer
Paperback, 452 pages
Published February 4th 2014 by Square Fish (first published February 5th 2013)
~Rating: 5/5 stars~
Cinder is back and trying to break out of prison—even though she'll be the Commonwealth's most wanted fugitive if she does—in this second installment from Marissa Meyer.

Halfway around the world, Scarlet Benoit's grandmother is missing. It turns out there are many things Scarlet doesn't know about her grandmother, or the grave danger she has lived in her whole life. When Scarlet encounters Wolf, a street fighter who may have information as to her grandmother's whereabouts, she is loath to trust this stranger, but is inexplicably drawn to him, and he to her. As Scarlet and Wolf unravel one mystery, they encounter another when they meet Cinder. Now, all of them must stay one step ahead of the vicious Lunar Queen Levana.
~Review~
"She did not know that the wolf was a wicked sort of animal, and she was not afraid of him."
After falling in love with Cinder, it was only a matter of time before I got my hands on the sequel, Scarlet, and Scarlet did not disappoint. I loved it! While the first book was all cyborgs and disease and political strife, Scarlet rounded out the entire world by bringing in family, felons, wolf people, and war. Oh! And space. This is the second novel in The Lunar Chronicles, which is a re-telling of the classic Little Red Riding Hood. Of course, this is not the classic we've all grown up with, this is a completely different and creative spin on the tale. I love, LOVE this series so far! I have always loved fairy tales and this is probably one of the best re-tellings I've ever read! Marissa Meyer's writing is very good and she takes the classic fairy tales of Cinderella and Little Red Riding Hood and places them in a very unique world that makes sense to the actual story. Very, very unique~ I mean, EVERYTHING about this series is just pure genius. Marissa Meyer has an incredible way with words and an even more incredible way of weaving all these stories together. I mean… she literally manages to include both the smallest and largest of details from each fairy tale without it being obvious or forced. And that's not an easy task.
Much like the first book I couldn't put this down, it was captivating from the start.  Cinder, and Scarlet this one was just as addictive and drew me into the world from word one, and I couldn't stop. I just loved the first book so much and was really looking forward to reading the sequel right away, which is why I bought the series so I could just read them all! haha
"I think I realized that I would rather die because I betrayed them, than live because I betrayed you." 
The story starts with Scarlet who is worried sick because her Grandma's been missing for a couple of days. She's never done that before so Scarlet knows something was wrong. But of course, the authorities seem to think otherwise. They assume she ran off or killed herself. And of course, they wouldn't listen. But Scarlet would do whatever it takes to find her Grandma, even if it meant teaming up with someone she doesn't fully know or trust to get to her.
That's when she meets Wolf, and learns from her father that her grandmother is held captive by tattooed torturers. I really liked Scarlet and Wolf. A lot more than I thought I would, actually.
Meanwhile, Cinder is escaping prison with the help of another criminal, Captain Thorne. And well… I don't want to spoil what happens… soo you'll have to read the book!
"I just think we shouldn't judge her, or anyone, without trying to understand them first. That maybe we should get the full story before jumping to conclusions. Crazy notion, I know." 
Scarlet is such a kick-ass female lead in this book. She's tough when she needs to be but at the same time very vulnerable, making her character much more relatable. Wolf is a nice addition to this series. His bad-boy persona is one I could swoon over for once, not being tarnished by a controlling or creepy side that, unfortunately, often goes hand in hand with this type. He had charm, tact, and motive; his development bloomed to perfection throughout the novel. AND THE ROMANCE/RELATIONSHIP between WOLF AND SCARLET, soooo cute :3 This book definitely had more of a swoon-worthy romance going for it than the first one.
The book also features most of the characters from the fist book such as Cinder, Kai, Iko and Queen Levana. I thought Cinder became more interesting in this story as we get to start to see the price Cinder is having to pay for her new-found powers. I also LOVED the addition of the new character, Captain Thorne. He adds a touch of humor into the story.
"A captain always knows where his ship is. It's like a psychic bond."
"If only we had a captain here."
When a book features an awesome gang, chaos, war, prison breaks, evil monarchs, bloodthirsty beasts, fights and psychic powers, it's impossible not to love it ! I mean, there is LITERALLY everything you could ever possibly want in this book, no, in this series~ I highly recommend it!
~~~
~Author Bio~
Marissa Meyer lives in Tacoma, Washington with her husband and three cats. She's a fan of most things geeky (Sailor Moon, Firefly, color-coordinating her bookshelf…), and has been in love with fairy tales since she was a kid, something she doesn't intend  to grow out of. She may or may not be a cyborg. Cinder, her first novel debuted on the New York Times Bestsellers list
~~~

Happy Reading!
~~~