V Games: Fresh From The Grave by Caroline Peckham
(The V Games, #2)
Kindle Edition
Publication: December 10th 2017
~Rating: 5/5 stars~
~Description~
Selena Grey has faced death and won. Freedom awaits so long as she can let go of the last thing that ties her to the island where the V Games were held. But despite the fact surviving has always been her priority, suddenly, she finds herself torn between her head and her heart.
Meanwhile, the Helsings are about to host a brand new game on the Isle of Lidelse where blood and money rule above all else. But when Selena finds out a devastating truth that puts her loyalty to the test, will she find the courage to go on? Or will she retreat from a life she never wanted, even if that means giving up the one person her heart beats for?
~Review~
*a copy was provided by the author*
AHHHHMAZINGGGGG!
After reading and LOVING the first book, I absolutely needed to read this! And let me tell you I just DEVOURED this novel!!!
As I mentioned in my review of the first book, I haven't read a GOOD vampire/supernatural book in forever; this one is a very unique vampire book! And I mean it, it's very different; this trilogy so far is something else! I don't know why, but I'm so amazed and I feel happy; the first two books have brought me so much joy! Vampire/supernatural/fantasy books are one of my favourite genres and not all are as unique as this. One thing I really liked was the different POVs, I always love when authors do this! I love, love, love knowing what's going through all the characters minds!
I was hooked from the very first page and was devastated when I finished it and now I'm desperately waiting for the next book!! I NEED IT NOW! LIKE right NOW~ haha *cries* I wish I had a time traveler thingy so I could just hop into the future to read the next book! Gahhh!
Sooo, V Games: Fresh from the Grave, starts off exactly where the first book ended. Selena escaped Raskdød, she's currently in the middle of the North Sea on a yacht, with no fuel, no food or water and only static when she tries to call the coastguard. If someone doesn't rescue her she'll probably die. She's at the point where she would rather be back on Raskdød with the Helsings than on a yacht in the middle of no where…  Sure enough, a boat sails up with a man, named Ulvic, who comes to her aid, and he knows exactly who she is and while Selena doesn't know if she can really trust him but she doesn't have much of a choice since staying on the yacht means death so, she takes her chance with Ulvic on his catamaran. Ulvic actually has his own island Skorpa, which he takes Selena to. Here she meets Ulvic's werewolves, Reason and Mekiah! I thought the werewolves were a nice addition!  I know werewolves were in the first book, but they didn't really have a role until now.
Selena has a crazy plan to save Varick, she and Ulvic go all the way back to Raskdød. Which in my opinion was a bad idea, I would never, ever go back there :c … Selena finds herself competing in the games once again, and while this time she has an idea of what to expect, she finds that the Helsings have raised the stakes with a whole new version of the games, on a whole new island, the Isle of Lidelse! Also, this time it's huge, luxury hotel, casino, strip club, hot springs spa even the V Experience where you can actually kill vampires plus of course the games themselves. And let me tell you, IT IS BRUTAL! I thought the games in Book 1 were bad, these are sooo much worse! 
This is novel two; so I definitely don't want to ruin or spoil anything… Mhmm, maybe I kinda did spoil a few things buuuut, I mean, its soo hard for me to not tell you everything!! Oh and the cliffhanger; WoWW, WOOW, WOW! There were many things in this novel took that I was definitely not expecting. I absolutely love this world the author created. I love every aspect of this series; it's entertaining, action-packed, fast-paced, adrenaline pumping, intense and super twisted. 
I cannot wait until the next novel is released. I highly recommend this series!!
Check out my review of book 1: V Games by Caroline Peckham
~~~
~Author Bio~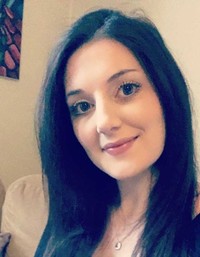 Caroline Peckham is the author of The Rise of Isaac Series and upcoming V Games Trilogy.
Caroline lives in the south-east of London with her best friend and a little rescue cat. When she's not writing, she's binging Netflix shows, going to the gym or at the pub pretending to be cool.
She adores her fans and loves to hear from them personally. She'd love for you to reach out to her on Facebook, Instagram and Twitter!
Twitter | Facebook | Website | Goodreads
~~~
Happy Reading!
~~~