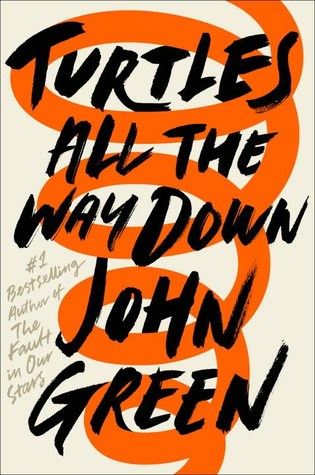 Turtles All the Way Down by John Green
Hardcover, 286 pages
Published October 10th 2017 by Dutton Books for Young Readers
~Rating: 4/5 stars~
~Description~
Sixteen-year-old Aza never intended to pursue the mystery of fugitive billionaire Russell Pickett, but there's a hundred-thousand-dollar reward at stake and her Best and Most Fearless Friend, Daisy, is eager to investigate. So together, they navigate the short distance and broad divides that separate them from Russell Pickett's son, Davis.
Aza is trying. She is trying to be a good daughter, a good friend, a good student, and maybe even a good detective, while also living within the ever-tightening spiral of her own thoughts.
~Review~
"You're deflecting." I just stared at her. "You're right that self isn't simple, Aza. Maybe it's not even singular. Self is a plurality, but pluralities can also be integrated, right? Think of a rainbow. It's one arc of light, but also seven differently colored arcs of light."
Where do I begin? John Green is one of those authors that always brings the feels. Turtles All The Way Down is the latest YA Contemporary from best selling author, John Green. I've read other books by John Green, you know the typical ones, TFIOS, Looking for Alaska, & Paper Towns. Which were all really great, so I kinda had expectations going into this one. And let me tell you, WOOOW, what a novel. This is a book about mental illness, it's a book about the power of lifelong friendship, and there is a bit of romance thrown in the mix. 
It all begins with a fugitive billionaire and the promise of a cash reward. Turtles All the Way Down is about lifelong friendship, the intimacy of an unexpected reunion, Star Wars fan fiction, and tuatara. But at its heart is Aza Holmes, a young woman navigating daily existence within the ever-tightening spiral of her own thoughts.
Aza's character felt super realistic and I am so impressed now. This was honestly one of the best depictions of anxiety or any mental health battle I've ever read. It didn't sound like someone trying to write the concept… John Green has clearly lived this. It was incredibly raw, honest, and beautiful at times. Aza's story isn't the easiest to read, and she probably won't be a relatable character to all people. There were things about her I could relate to, and I loved her voice. I also adored her friend, Daisy. Their friendship was actually my favorite part of this story. I also liked Aza's mom and the Davis story-line, even though it wasn't the focus.
"The problem with happy endings is that they're either not really happy, or not really endings, you know? In real life, some things get better and some things get worse. And then eventually you die." 
I think everyone will relate to this on some level because the story grapples with the types of realizations we all face while growing up (so it's kind of reassuring that we're not alone in those thoughts). Aza spends a lot of time examining to what extent we author our lives and what our definition of "self" involves. But then she gets stuck in obsessive, infinitely tightening thought spirals that are SO well depicted.
"It's getting sucked into a whirlpool that shrinks and shrinks and shrinks your world until you're just spinning without moving, stuck inside a prison cell that is exactly the size of you, until eventually you realize that you're not actually in a prison cell. You are the prison cell."
This wasn't the typical John Green romance with quirky teens, but that ended up being a refreshing change for me. Overall, I really enjoyed it and totally recommend. I am actually looking forward to whatever John Green writes next. I recommend it! Let me know what you thought!
*Quotes were taken from the book*
~~~
~Author Bio~
John Green's first novel, Looking for Alaska, won the 2006 Michael L. Printz Award presented by the American Library Association. His second novel, An Abundance of Katherines, was a 2007 Michael L. Printz Award Honor Book and a finalist for the Los Angeles Times Book Prize. His next novel, Paper Towns, is a New York Times bestseller and won the Edgar Allen Poe Award for Best YA Mystery. In January 2012, his most recent novel, The Fault in Our Stars, was met with wide critical acclaim, unprecedented in Green's career. The praise included rave reviews in Time Magazine and The New York Times, on NPR, and from award-winning author Markus Zusak. The book also topped the New York Times Children's Paperback Bestseller list for several weeks. Green has also coauthored a book with David Levithan called Will Grayson, Will Grayson, published in 2010. The film rights for all his books, with the exception of Will Grayson Will Grayson, have been optioned to major Hollywood Studios.
In 2007, John and his brother Hank were the hosts of a popular internet blog, "Brotherhood 2.0," where they discussed their lives, books and current events every day for a year except for weekends and holidays. They still keep a video blog, now called "The Vlog Brothers," which can be found on the Nerdfighters website, or a direct link here.
Twitter | Facebook | Website | Goodreads
~~~

Happy Reading!
~~~