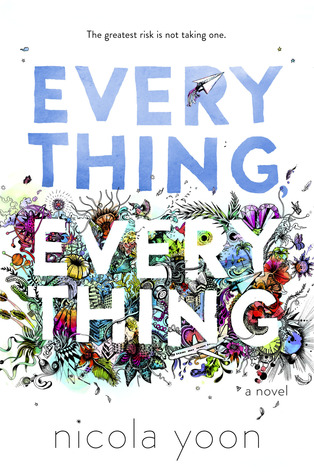 Everything, Everything by Nicola Yoon
Paperback, 310 pages
Published September 3rd 2015 by Corgi Childrens (first published September 1st 2015)
~Rating: 3.5/5 stars~
~Description~
My disease is as rare as it is famous. Basically, I'm allergic to the world. I don't leave my house, have not left my house in seventeen years. The only people I ever see are my mom and my nurse, Carla.
But then one day, a moving truck arrives next door. I look out my window, and I see him. He's tall, lean and wearing all black—black T-shirt, black jeans, black sneakers, and a black knit cap that covers his hair completely. He catches me looking and stares at me. I stare right back. His name is Olly.
Maybe we can't predict the future, but we can predict some things. For example, I am certainly going to fall in love with Olly. It's almost certainly going to be a disaster.
~Review~
Honestly, I don't know how I feel about this book.,. It was very much flat and that 'plot twist' was so poorly executed. I expected to LOVE this book.  The reviews were all positive, and it sounded so different… all these reasons added up…
This book was fast paced and had a great plot.  The first half was very enjoyable and I loved the two main characters.
It started quite beautifully written with diverse characters. Madeline is the main character, and she has this rare condition.
I did think that things were a bit rushed and the story went in all weird directions towards the second half and would have been better if it was flushed out a bit more. But as I read the second half of the book, and got more information I realized the book wasn't as unique as I had hoped it would be. But I did find myself enjoying this book. It was more cheesy than sweet but I still enjoyed the emphasis on the human need for more.  I loved Maddy's positive outlook on life, despite her illness and that she's never been outside of her house. She's so smart and witty. One of my favorite things that she does is every time she gets a new book, she writes a list of rewards if found.  I thought Madeline was incredibly selfish at times, but this offered complexity to her character and her yearning was palpable.
I've read a lot of reviews of this book and people have mentioned this "plot twist", but in my opinion, I thought it was very predictable.  I mean, Maddy's father and brother died, and her mother was DEVISTATED, which lead to her mother doing everything in her power to keep her daughter safe and all to herself, because after all, Maddy was all she has. The way Maddy's mother acted towards Maddy when Maddy didn't spend time with her as often was really why it was predictable, because you could just feel her pain, that her baby girl was changing and drifting apart, and then she proceeded to take everything away from Maddy (electronics, not being able to invite Olly over). This was when I realized, her mother essentially made it up to protect her and keep her in the house after her dad and brother died (her mother isn't evil, just mentally ill).
I feel like it's so cheap because the author built up this beautiful romance around the concept of one person having an illness that doesn't allow them to leave the house, a very interesting idea I might add, and then just when they're really in love, the author totally crushes the concept with and it crumbles into a story about two somewhat normal teens in love.
I feel like there are so many unanswered questions… Her mom is a doctor… but Maddy never really had an official diagnosis… I just don't know….
As I said, at the beginning… it was poorly executed… I'm really disappointed at the ending..
I don't know if I recommend it… Maybe I'm just thinking too in depth of the plot/character actions. Well, the romance part was really CUTE! I recommend it to those who want to read a typical YA Romance.
~~~
~Author Bio~
Nicola Yoon is the #1 NYT bestselling author of Everything, Everything, which is now a major motion picture, and The Sun Is Also a Star, a National Book Award finalist, Michael L. Printz Honor Book and Coretta Scott King New Talent Award winner. She grew up in Jamaica and Brooklyn, and lives in Los Angeles with her family. Everything, Everything is her first novel.
~~~

Happy Reading!
~~~