V Games by Caroline Peckham
(The V Games, #1)
Kindle, 336 pages
Published: October 30th 2017
~Rating: 4/5 stars~
LAST ONE TO THE GRAVE, WINS.
Being a killer wasn't what eighteen year old Selena Grey ever expected she'd become. But with her stepfather's blood fresh on her hands, she finds herself walking into an eight by six prison cell where she'll live out the next twenty five years of her life.
Or so she thought…
When a man as beautiful as he is terrifying walks into the prison, Selena is the only one seemingly unaffected by his charms. But Varick's impossibly dark eyes are trained on her and her alone, frightening Selena of what his presence forewarns. It's not long before she finds out as she wakes on a ship in the dead of night, a captive of the forbidding Varick who seems more beast than man.
But when she arrives at a barren and isolated island in the stormy north sea, she soon realizes that the obnoxious Varick may be her only hope of survival. Because, in a place where polar night reigns for the next six months, a powerful and cruel family are about to start this year's season of the V Games. And Selena is marked to participate in the blood sport, hunted by ravenous vampires and surviving the harsh terrain of the bleak island. And, not only that, but Selena just became the highest bid on contestant in a century…Find out why in Book 1 of the V Games Series
---
~Review~
---
*a copy was provided by the author*
Wow! I wasn't sure what to expect at first, I mean I've read a lot of vampire books in the past and they're all pretty similar. But this, this was quiet a surprise; this is a very unique vampire book! And I can't wait for what the author has in store for the rest of this series!
I felt like the first few chapters were kind of slow, but I'm happy I continued.
Selena – our main character is a convicted murderer. She finds herself kidnapped along with her cellmate and 22 other young female prisoners, (24 in total) to take part in the V Games. These games are an age-old tradition, that hunters created. Years after the hunter/vampire wars, vampires were weakened. And now instead of the Helsings just hunting vampires, they torture them; they are kept hungry and controlled with capsules of silver embedded in their necks and then are released when the Helsings allow it, (the Helsings? Oh yeah, we are definitely thinking of the same Helsings, the Van Helssings.) and put on the island with the prisoners. The V Games is a twisted game of survival against abused and starving vampires. They have to survive a week on an island, with challenges and hungry vampires that hunt them. The winner of the games gets to go home with a clean record.
The V Games was a riveting read, the whole aspect of the book was really amazing; I loved the different challenges and such. Although, this story is similar to The Hunger Games, it is different and the whole concept is very distinct. I thought it was well-written and Caroline Peckham did a great job at making it her own.
Fast pace, action, vampires, romance, what more could you want? This book is perfect and I highly recommend it.
---
~Author Bio~
---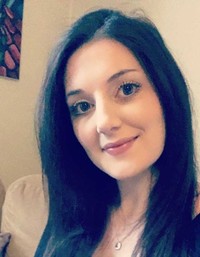 Caroline Peckham is the author of The Rise of Isaac Series and upcoming V Games Trilogy.
Caroline lives in the south-east of London with her best friend and a little rescue cat. When she's not writing, she's binging Netflix shows, going to the gym or at the pub pretending to be cool.
She adores her fans and loves to hear from them personally. She'd love for you to reach out to her on Facebook, Instagram and Twitter!
Twitter | Facebook | Website | Goodreads
~~~
Happy Reading!
~~~