It Ends With Us by Colleen Hoover
Paperback 376 pages
Published August 2nd 2016 by
~Rating: 5/5 stars~
~Description~
SOMETIMES THE ONE WHO LOVES YOU IS THE ONE WHO HURTS YOU THE MOST
Lily hasn't always had it easy, but that's never stopped her from working hard for the life she wants. She's come a long way from the small town in Maine where she grew up – she graduated from college, moved to Boston, and started her own business. So when she feels a spark with a gorgeous neurosurgeon named Ryle Kincaid, everything in Lily's life suddenly seems almost too good to be true.
Ryle is assertive, stubborn, and maybe even a little arrogant. He's also sensitive, brilliant, and has a total soft spot for Lily, but Ryle's complete aversion to relationships is disturbing.
As questions about her new relationship overwhelm her, so do thoughts of Atlas Corrigan – her first love and a link to the past she left behind. He was her kindred spirit, her protector. When Atlas suddenly reappears, everything Lily has built with Ryle is threatened.
With this bold and deeply personal novel, Colleen Hoover delivers a heart-wrenching story that breaks exciting new ground for her as a writer. It Ends With Us is an unforgettable tale of love that comes at the ultimate price.
This book contains graphic scenes and very sensitive subject matter.
~Review~
Wow this book. What an emotional journey. This was one of the hardest and most raw books I've ever read. It was so real and riveting. I couldn't get enough of it. I couldn't stop reading yet I didn't want to keep reading. Such a different experience. Reading a Colleen Hoover book is like going through an eye opening journey and this one was no different and was one of the hardest but most worthwhile to battle through. This is an extremely powerful story and it's not what most people will be expecting. It gets its power from the singular first person narrative and we experience everything through Lily's eyes. When she falls in love, we fall in love; when her heart is broken, our heart is broken; when she gets it all wrong, so do we.
I cannot stress how important and damn smart this book is. There is no black and white characterization – it's much deeper and more complex than that, and therefore, far more emotional. It peels back the layers of characters and relationships to do something that so many other authors have tried and failed to do – to make you understand a situation that for most people makes no sense. It's very sad, painful and exceptionally honest. My heart hurt while reading it and I almost cried several times.
The way that Colleen Hoover writes puts you right in the situation that Lily is in head first and makes you fall in love with both Ryle and Atlas. And it's so twisted because of the kind of guy one of them turns out to be. In between this passionate love story that's going on with Ryle and Lily we get these sweet innocent flashbacks of a life with a sixteen year old Lily and Atlas. Atlas who is this homeless boy who finds hope and a home in Lily. And Lily who is living a nightmare of home life and seeks comfort in him. Those stories were my favorite.
So perfect! I loved these characters, loved their history and their flaws and strengths. And the ending…..I have no words. Beautiful and bittersweet in the same breath. This novel is why CoHo is my favorite author. She tells stories in such a way that it makes you fell every emotion. I highly recommend it!
~~~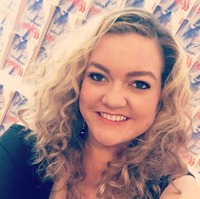 ~Author Bio~
Colleen Hoover is the #1 New York Times Bestselling author of Slammed, Point of Retread, This Girl, Hopeless, Loosing Hope, Fining Cinderella, Maybe Someday, Maybe Not, Ugly Love, Confess, November 9, and It Ends with Us. Colleen has won the Goodreads Choice Award for Best Romance twice-for Confess in 2015 and It Ends With Us in 2016. Confess was adapted into a seven-episode online series. In 2015, Colleen and her family founded The Bookworm Box, a bookstore and monthly subscription service offering signed novels donated by authors. All profits are given to various charities each month to help those in need. Colleen lives in Texas with her husband and their three boys.
~~~
Happy Reading!
~~~