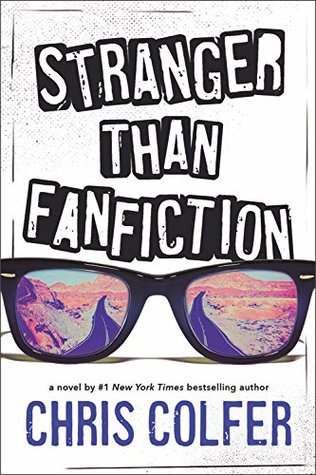 Stranger Than Fanfiction by Chris Colfer
Hardcover, 272 pages
Published February 28th 2017 by Little, Brown Books for Young Readers
~Rating: 4/5 stars~
~Description~
Cash Carter is the young, world famous lead actor of the hit television Wiz Kids. When four fans jokingly invite him on a cross-country road trip, they are shocked that he actually takes them up on it. Chased by paparazzi and hounded by reporters, this unlikely crew takes off on a journey of a lifetime–but along the way they discover that the star they love has deep secrets he's been keeping. What they come to learn about the life of the mysterious person they thought they knew will teach them about the power of empathy and the unbreakable bond of true friendship.
~Review~
This book is about five young adults each struggling with different social challenges. Four friends invite their favorite actor on a road trip before heading out to college and it's not the experience any of them were expecting.  Stranger Than Fanfiction is a lot of fun, there's geeking out for the fictional show Wiz Kids, an abundance of lame roadside attractions across the country, and a dozen new life experiences for these small-town teenagers getting ready to enter the next stage of their life. As secrets are divulged and relationships tested, these close friends and almost-has-been celebrity learn the importance of their friendship and the power of fandom.
The writing style of the book felt very movie-like. Each chapter focused on one character's inner feelings, which  gave a unique narration that makes the reader both an observer of the storyline, as well as a participant.
I didn't see the twist at the end coming, maybe it was predictable for some people, but not me. I was heartbroken for Cash, (literally teared up)  he had no one to share it with, so he ended up going on a road trip with four people who he's never met. I think I was just so sad that he had gotten into a position, either by circumstance or his own volition, and spends those few weeks with a group of strangers instead of anyone who cares about the real him.
I love Chris' writing style. His other books are really good too, which is why I wanted to read this one so bad! I  really enjoyed this book and I highly recommend it! 
~~~
~Author Bio~
Chris Colfer is an Emmy-nominated and Golden Globe-winning actor best-known for his portrayal of Kurt Hummel on the FOX television series "Glee".
He is also a New York Times bestselling author whose books include the first three novels in the "Land of Stories" series ("The Wishing Spell", "The Enchantress Returns" and "A Grimm Warning") as well as "Struck By Lightning: The Carson Philips Journal" which is a novelization based on the script he wrote for the film "Struck By Lighting" (Colfer also co-produced and starred in that movie).
~~~

Happy Reading!
~~~