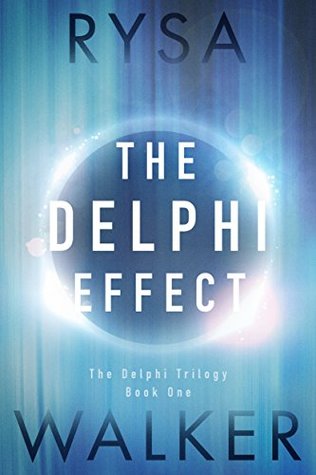 The Delphi Effect by Rysa Walker
Kindle Edition, 379 pages
Published October 11th 2016 by Skyscape
~Rating: 4.5/5 stars~
~Description~
It's never wise to talk to strangers…and that goes double when they're dead. Unfortunately, seventeen-year-old Anna Morgan has no choice. Resting on a park bench, touching the turnstile at the Metro station—she never knows where she'll encounter a ghost. These mental hitchhikers are the reason Anna has been tossed from one foster home and psychiatric institution to the next for most of her life.
When a chance touch leads her to pick up the insistent spirit of a girl who was brutally murdered, Anna is pulled headlong into a deadly conspiracy that extends to the highest levels of government. Facing the forces behind her new hitcher's death will challenge the barriers, both good and bad, that Anna has erected over the years and shed light on her power's origins. And when the covert organization seeking to recruit her crosses the line by kidnapping her friend, it will discover just how far Anna is willing to go to bring it down.
~Review~
*a copy was provided via Netgalley*
A lot better than I expected. It kinda reminded me of The Host by Stephanie Meyer, but 100 times better, with way more detail and uniqueness.  I absolutely loved this book and thought it was great. The idea of having people in your head makes for an interesting story and I loved the way the author presented in the book.
The Delphi Effect is an extremely action packed adventure from start to finish with many paranormal elements along with some science fiction mixed into an intense thrill ride. This series is classified young adult but I would say with this one the characters and action seemed more on the mature side than a typical young adult read.
The story starts off with Anna's ability to harbor and speak with ghosts. At the age of three, she was left in a food court with a note taped to her, that simply read her name, date of birth and 'this child is possessed'. Since then, she has grown up in various foster homes, friendless besides a younger adoptive brother named Deo.
As the book goes on many other things added into the mix like, clairvoyance, psychic abilities, telekinesis and so on. Along with moving from revenge for murder into a much bigger conspiracy involved. So much to keep one's attention this one certainly broke the typical young adult mold.
The writing is fantastic and Anna's character is really relatable. Her voice is spot on for a teenager, and I loved how she can be immediately abrasive to her 'hitchers'. This was such a good start to a series, especially with the cliffhanger ending!
Ahhhhh….I wish that the next books in the trilogy were out already! I neeeeeed to know what happens next. I highly recommend it!
~~~
~Author Bio~
Rysa Walker is the author of the bestselling CHRONOS Files series. Timebound, the first book in the series, was the Young Adult and Grand Prize winner in the 2013 Amazon Breakthrough Novel Awards.
Rysa grew up on a cattle ranch in the South, where she read every chance she got. On the rare occasion that she gained control of the television, she watched Star Trek and imagined living in the future, on distant planets, or at least in a town big enough to have a stop light.
She currently lives in North Carolina, where she is working on her next series, The Delphi Project. If you see her on social media, please tell her to get back into the writing cave.
~Author Links~
Twitter | Facebook | Website | Goodreads
~~~

Happy Reading!
~~~