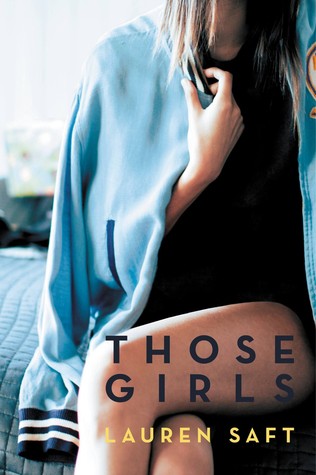 Those Girls by Lauren Saft
Published June 9th 2015 by Poppy
~Rating: 2.5/5 stars~
Some girls will always have your back, and some girls can't help but stab you in it.
Junior year, the suburbs of Philadelphia. Alex, Mollie and Veronica are those girls: they're the best of friends and the party girls of the school. But how well does everybody know them–and really, how well do they know one another? Alex is secretly in love with the boy next door and has joined a band–without telling anyone. Mollie suffers from a popular (and possibly sociopathic) boyfriend, as well as a serious mean streak. And Veronica just wants to be loved–literally, figuratively, physically….she's not particular. Will this be the year that bonds them forever….or tears them apart for good?
Lauren Saft masterfully conveys what goes on in the mind of a teenage girl, and her debut novel is raw, honest, hilarious, and thought-provoking, with a healthy dose of heart.
~Review~
*a copy was provided via Netgalley*
I knew this was going to be like a Gossip Girl type book where 'frenemies' existed.  There are three main characters, therefore the author chose to make each chapter a different POV….which was soooo hard to follow… I feel like the author didn't execute the chapter POVs, well…
The characters themselves were annoying and whiny… there were times I just wanted to jump in the book and slap them; I hated them all… ahh well, except for Alex, I actually liked reading her parts of the book. Alex seemed the most normal and genuine. She joined a band, realized she loved singing and wasn't so obsessed with the same interests like the other girls. At one point, Alex actually turned down going to a party just to stay home and read… IKR… I was impressed.. haha
 It was slow and annoying at times, but I'll be honest.. I did kinda like it.. Entertaining up until a certain point… soooo I guess not a complete waste and deserving of some stars. And the writing was okay…I mean, reading the word "whorebox" in a book is just sooo fucking hilarious.
~~~
~Author Bio~
Lauren Saft holds an MFA from the University of San Francisco and a Bachelor's degree from Tufts University. She's worked in publishing, tv, education, child care, retail, journalism, and food service, all the while closely studying the habits and compulsions of teenage girls. She currently works as a tv producer in Philadelphia where she lives with her cat and creative inspiration, Desi. Her work has been published in Five Quarterly, Rap Up Magazine, and clubplanet.com. One time, she met the Olsen twins. Those Girls is her debut novel.
~Author Links~
Twitter | Tumblr | Website | Goodreads
~~~

Happy Reading!
~~~