Before I Fall by Lauren Oliver
Paperback, 470 pages
Published October 25th 2011 by HarperCollins (first published March 2nd 2010)
~Rating: 4/5 stars~
~Description~
What if you had only one day to live? What would you do? Who would you kiss? And how far would you go to save your own life?
Samantha Kingston has it all: the world's most crush-worthy boyfriend, three amazing best friends, and first pick of everything at Thomas Jefferson High—from the best table in the cafeteria to the choicest parking spot. Friday, February 12, should be just another day in her charmed life.
Instead, it turns out to be her last.
Then she gets a second chance. Seven chances, in fact. Reliving her last day during one miraculous week, she will untangle the mystery surrounding her death—and discover the true value of everything she is in danger of losing.
~Review~
I was watching the movie trailer for the new Fifty Shades movie and I saw a trailer for Before I fall, I recognized the title and I knew there was a book by Lauren Oliver.  
This book was such a amazing surprise. I honestly didn't think that it would be so good and I was amazed that it was. It was so heart breathtakingly beautiful, it was so thought provoking and powerful. I've never read a book like this, where the same day plays over and over again, and its different every time. I've seen a ton of movies like this but never really read a book like it, It was different, good different. I really enjoyed it. Even though it had elements of supernatural (being brought back to life and all) but this book is so realistic especially how high school is. The book describes the whole high school atmosphere and being a teenager perfectly.
The beginning really drew me in I enjoyed reading about Sam's day and the events that lead up to her death.  But at some points, I really didn't like Sam and I just wanted to slap her and say "Don't you realize what you are doing?" but she didn't listen to me LOL… What I loved the most about this book is the transformation of Sam from being one of the mean girls to a strong independent individual who really grows up in the 7 days following her death. The character development in this book is so rich. I also really loved the layout of this book, each chapter representing a day in Sam's life following her death. Each day Sam tried to change what happened to her and her friends and the final chapter, I mean you knew what was going to happen but I didn't stop me from wishing for a different ending.
I didn't expect it to turn out the way it did, but I'm sure glad it did. So amazing. Lauren Oliver is an amazing writer, and has managed to make Sam's story come alive in a way that made me unable to put the book down.
~~~
~Author Bio~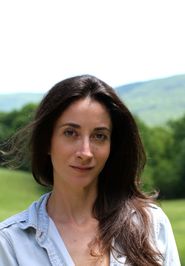 Lauren Oliver is the cofounder of content development company Paper Lantern Lit. She is also the New York Times bestselling author of the YA novels Replica, Vanishing Girls, Panic, and the Delirium trilogy: Delirium, Pandemonium, and Requiem, which have been translated into more than thirty languages. The film rights to both Replica and Lauren's bestselling first novel, Before I Fall, were acquired by AwesomenessTV; a major motion picture adaptation of Before I Fall was announced by Open Road Films in 2016. Her novels for middle grade readers include The Spindlers, Liesl & Po, and the Curiosity House series, co-written with H. C. Chester. She has written one novel for adults, Rooms.
A graduate of the University of Chicago and NYU's MFA program, Lauren Oliver divides her time between New York, Connecticut, and a variety of airport lounges.
~Author Links~
Twitter | Facebook | Website | Goodreads
~~~

Happy Reading!
-Ana
~~~