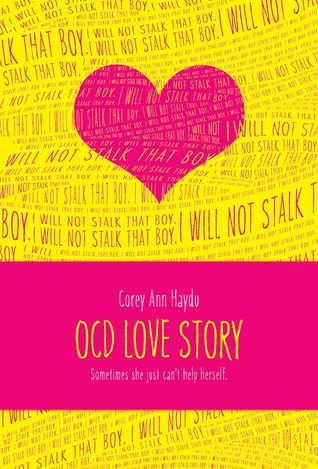 OCD Love Story by Corey Ann Haydu
Published: July 23rd 2013 by Simon Pulse
~Rating: 5/5 stars~
~Description~
When Bea meets Beck, she knows instantly that he's her kind of crazy. Sweet, strong, kinda-messed-up Beck understands her like no one else can. He makes her feel almost normal. He makes her feel like she could fall in love again.
But despite her feelings for Beck, Bea can't stop thinking about someone else: a guy who is gorgeous and magnetic… and has no idea Bea even exists. But Bea knows a lot about him. She spends a lot of time watching him. She has a journal full of notes. Some might even say she's obsessed.
Bea tells herself she's got it all under control. But this isn't a choice, it's a compulsion. The truth is, she's breaking down…and she might end up breaking her own heart.
~Review~
High school senior Bea suffers from a compulsive form of OCD that, among other things, causes her to fixate on a person and stalk him. Now, in addition to the man she's stalking, she's dating a guy from her OCD support group and by dating, I mean they're enabling each other to fall deeper into their obsessions. Bea falls deeper and deeper into dangerous territory and nobody seems to be able to stop her, least of all herself.
I feel like the portrayal of OCD was pretty accurate.  I've seen some negative reviews criticizing the author about how "weird", "freaky" and "ridiculous" the characters are, but OCD is not ridiculous. It is serious, and while the sufferers know that what they are doing is ridiculous, they physically cannot stop.
To be frank, there were definitely some sections of this book that were uncomfortable to read, in terms of Bea's obsessions. This book is heartbreaking, honest, gritty, and real, and a book that I would recommend.
~~~
~Author Bio~
The author of YA novels, OCD LOVE STORY, LIFE BY COMMITTEE,MAKING PRETTY, the middle grade novel, RULES FOR STEALING STARSand the upcoming YA novel FALLING GIRLS AND MISSING BOYS. A graduate of NYU's Tisch School of the Arts and The New School's Writing for Children MFA program, Corey has been working in children's publishing since 2009.
In 2013, Corey was chosen as one of Publisher Weekly's Flying Starts. Her books have been Junior Library Guild Selections, Indie Next Selections, and BCCB Blue Ribbon Selections.
Corey also teaches YA Novel Writing with Mediabistro and adapted her debut novel, OCD LOVE STORY into a high school play, which had its first run in Fall 2015.
Corey lives in Brooklyn with her dog, her fiance, and a wide selection of cheese.
~Author Links~
~~~

Happy Reading!