The Fated 5 have come together to bring you a collection of five steamy new adult urban fantasies about sacrifice, second chances, destiny and love against all odds.
With fan favorites from new adult and urban fantasy bestsellers Rachael Wade, Nikki Jefford, Stacey Marie Brown, Alyssa Rose Ivy and
Heather Hildenbrand.
~~~
Fated: 5 Paranormal New Adult Novels
by Rachael Wade, Nikki Jefford, Stacey Marie Brown, Alyssa Rose Ivy, Heather Hildenbrand
ebook
Published August 21st 2014
Rating: 4.5/5
Amazon US | Amazon UK | Barnes & Noble | iBooks
***Available for a LIMITED TIME only***
Five full-length novels only 99 cents.
~Synopsis~
Amaranth by Rachael Wade – Camille moves to Southern Louisiana to escape her abusive past, not expecting to fall in love and plummet into the world of Amaranth, a place of exile for reformed vampires.
Aurora Sky: Vampire Hunter by Nikki Jefford– Thanks to her rare blood type, Aurora's forced to hunt vampires in Alaska. Now Aurora's only friends are groupies of the undead and the only boy she can think about may very well be a vampire.
Darkness of Light by Stacey Marie Brown – Ember has never fit in. After she lands herself in a facility for troubled teens, she meets the darkly mysterious and hot as hell, Eli Dragen who is keeping secrets that can't stay hidden much longer.
Flight by Alyssa Rose Ivy – A summer in New Orleans leads to a chance encounter with the infuriating yet alluring Levi. Allie finds herself at the center of a supernatural society and forced to decide between following the path she has always trusted or saving a city that might just save her.
Whisper by Heather Hildenbrand – Five months after Whisper is released from the Skye View Wellness Center she stumbles upon an unconscious boy at a bonfire party who holds the key to breaking her curse.
~Review~
**A copy was provided for Review purposes
Amazing compilation of Paranormal Romance Books! I love reading paranormal romance, and always on the lookout for new stories, especially in the New Adult genre. This set literally gave me everything that I was looking for! It had stories of love and destiny, sacrifices, a second chance at romance and keeping that love when the odds are stacked against you!
Amaranth by Rachael Wade 
This story just pulls you in right from the start.  It's a well-written story that will keep you on your is a very unique take on vampires who don't want to be monsters. To say the least, I loved it and instantly wanted to read more of her writing.  I managed to read this book in one sitting. Not because it was short but because it was so good! I love the idea of Amaranth, giving vampires an out if they wish to become human again. I've heard some say this seems far-fetched but come on, it's magic! Anything can happen.
Filled with strong characters, fight scenes, humor and of course hunky vampires, with a mix in some revenge, an impulsive, love struck main character and a portal only open under the Crescent moon, and you are ready for Amaranth, a land of exile for Vampires who want to become human again. Once through Amaranth's gates you can't return to the human world and live under the rule of Samira, a ruthless witch turned vampire. When Gavin sets off to save the people of Amaranth and himself from his vampiric nature, Camille is convinced it's a suicide mission and tries to save him. Along with a few friends, they must try to get out of Amaranth without dying first.
This is a well and carefully thought out novel, with skillful world-building, and characters who ring with intensity and reality. The plotting (on both sides of the veil of reality) is extraordinary and very realistic-the reader will accept that any and all of it could actually come to pass. Whenever you begin this book, do set aside a block of time, for you won't turn away from it till you're finished, and you'll find yourself longing for the next volume in the trilogy.
Aurora Sky: Vampire Hunter by Nikki Jefford
Aurora Sky: Vampire Hunter is an interesting take on vampire mythology, and I have to say I really like the uniqueness of the mythology. Plague vampires is an interesting concept that I really hope is explored more in the future installments of this Vampire Hunter series. Aurora goes from an ordinary girl to a rebellious kick butt take no names type in a very short amount of time. This is not shocking as the events she has to endure after her accident are a little mind-blowing.
Aurora is a senior at Daneli High school she is going to be leaving Alaska to go to college. When she is in a car accident that changes her life forever. She ended up at a Military Hospital instead of a normal hospital, that is where her mother signed over her rights to Aurora. Aurora has a special kind of blood it can be injected with the right combination of modified organisms and viruses that can make you deadly and powerful. She was saved for a specific reason a chance to serve not only your country but man kind. She doesn't want to be in the military but she has no choice though. When she went back to school she lost one of her closest friends and Fane started to talk to her. She had to go through some training, she had to kill a vampire. The Military gave her a mentor Dante, Aurora's mom really likes Dante.
This is a story of a girl who has special blood, so when she almost died, the government decided to surgically repair her to make her a vampire hunter, without her knowledge. This is a very fun one, with a lot of action, and some really interesting characters.
Aurora Sky is a MUST read, I LOVED IT!
Flight by Alyssa Rose Ivy
This was a new idea for a paranormal group of shifters that I have not read before.  This one also has a very surprising unique supernatural character with some really good plot twists, and a great set of characters.
Allison and her friend, Jaime, travel down to New Orleans to have a fun summer before they both leave for college. There they meet Levi, Owen, and Jared who have a mysterious but sexy way about them. Allison has sworn off boys for the summer, but Levi is hell-bent on changing her mind. Allison is snarky and stubborn, and does not like being known as the little rich girl. She likes to handle things on her own. When she first meets Levi, his cocky attitude drives her crazy, and not in a good way, but he starts to grow on her. Allison slowly opens up, and as a character, she is very entertaining. As her relationship with Levi progress, Allie begins to learn that not everything is, as it seems. Levi is that cocky, slightly bad boy that every girl wants but he only has eyes for Allie. At first, Levi annoyed me, just as he did Allison. As I continued to read, he started to grow on me, and I could not help but root for Allie and Levi.
Needless to say, things progress and before long we have undeniable chemistry between our two main characters, no matter how resistant Allie is. It seems that the more she avoids Levi, the more he wants her.  I really enjoyed reading about their relationship develop over the story and what happens at the end I never would have expected!!!
Very entertaining book, I would definitely recommend it to anyone who enjoys paranormal fantasy!!
Darkness of Light by Stacey Marie Brown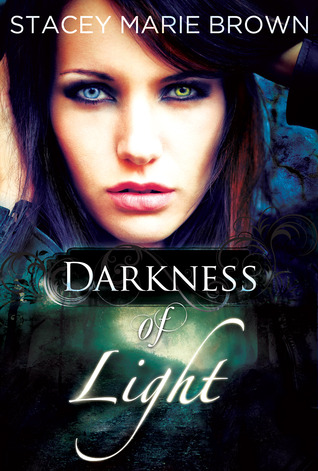 What a great book!!  The author keeps you guessing the whole time and leaves you with an ending I never could have guessed!! Very entertaining and I could not stop reading.
The two main characters are well-rounded and realistic. Ember, the protagonist, is a troubled teenager. When she was younger she found her mothers' body after she was murdered and from then on Embers life spirals downward. She sees thing that aren't real and with tons of therapy she knows that her visions are an 'escape' to her own imaginary world, because that is easier to do than facing reality and coping with her problems. Boy oh boy are the therapists wrong… But as one would expect from a real life person, Ember fights to keep her sanity in tact by refusing to believe that her imaginary world is real.
Thing take a turn for the worst when Ember is wrongly accused for an explosion at school, it is a mere coincidence that she always seems to be right in the middle of exploding lights and glass wherever she goes, or is it?
Ember has to go to a different school for a month because the principal doesn't want her in his school. Mark doesn't understand why. She found her mom murdered,Mark thinks that they stopped therapy too soon. When she went to school she meets the green-eyed man that she saw at the police office Eli. Torin tells her that her mother left clues to what she was before she was murdered. Eli can't be with her and he won tell her what she is.
This is one of the most unique stories, with excellent characters, wonderful surprises, lots of plot twists, and some amazing thoughtfulness when it comes to blowing your mind. I definitely say get this one!!!
Whisper by Heather Hildenbrand
Whisper is a standalone YA romance novel.
Whisper is barely going on with her life. She lost her parents in a car accident and doesn't know how to get past the sorrow. She lives with her grandfather Tinker. They help wildlife animals who are in need. Her best friend Erin convinces her to go out one night to a bonfire. When she unexpectedly finds an unconscious boy, her life will never be the same. The Cherokee believe in reincarnation but it's always been something Whisper has a hard time believing. An evil force stalks Whisper and she may find that magic and the Cherokee ways are more deeply ingrained in her life than she thought. Now she has to fight for her life and those she loves if she wants a chance to find happiness and life again.
This one is amazing. It's a heartfelt, gripping, heart wrenching story, but it's one of the best books I've ever read… EVER. I mean that. So, with that said, I recommend you pick this one up as well.
Overall, I really enjoyed The Fated Compilation. I found the stories to be intriguing, addictive, and I loved all the different paranormal aspects.
~~~
~About the authors~
Rachael Wade writes edgy New Adult and Adult romance and science fiction. She is the author of the Amazon bestselling PRESERVATION SERIES, THE REPLACEMENT, and LOVE AND RELATIVITY, as well as the paranormal romance series THE RESISTANCE TRILOGY. When she's not writing, she's busy going to concerts, watching too many movies, and learning how to protect animals and the environment. She's an avid Brandi Carlile fan and loves all things Tim Burton. Visit her at RachaelWade.com and LightsOnLove.com, and come chat with her on Twitter @RachaelWade.
Website I Facebook I Twitter I Lights On Love I Goodreads
~~~
N
ikki Jefford loves fictional bad boys and heroines who kick butt. Books, travel, TV series, hiking, writing and motorcycle riding are her favorite escapes. She loves meeting people from all walks of life, from all around the globe; and wouldn't trade her French husband in for anyone – not even Spike!
She's a third generation Alaskan, born & raised in Anchorage, now living in Northern Washington. Crazy about her dog, Cosmo. (Writer's best friend.) The dark side of human nature fascinates her, so long as it's balanced by humor and romance. Believes all animals, people and the planet should be treated kindly.
Her favorite TV heroines are Buffy, Veronica Mars, and Dr. Temperance 'Bones' Brennan.
Website I Facebook I Twitter I Goodreads
~~~
Stacey Marie Brown is a lover of hot fictional bad boys and sarcastic heroines who kick butt. She also enjoys books, travel, TV shows, hiking, writing, design, and archery. Stacey swears she is part gypsy, being lucky enough to live and travel all over the world.
She grew up in Northern California, where she ran around on her family's farm, raising animals, riding horses, playing flashlight tag, and turning hay bales into cool forts. She volunteers helping animals and is Eco-friendly. She feels all animals, people, and environment should be treated kindly.
 Website I Facebook I Twitter I Goodreads
~~~
Alyssa Rose Ivy is a bestselling New Adult and Young Adult author who loves to weave stories with romance and humor. Although raised in the New York area, she fell in love with the South after moving to New Orleans for college. After surviving law school and earning her masters in library science, she turned back to her creative side and decided to write. She lives in North Carolina with her husband and two young children, and she can usually be found with a cup of coffee in her hand.
Website I Facebook I Twitter I Goodreads
~~~
Heather Hildenbrand was born and raised in a small town in northern Virginia where she was homeschooled through high school. Since 2011, she's published more than eight YA & NA novels including the bestselling Dirty Blood series. She splits her time between coastal Virginia and the island of Guam and loves having a mobile career and outrageous lifestyle of living in two places.
Heather is also a publishing and success coach bent on equipping and educating artists who call themselves authors. She loves teaching fellow writers how to create the same freedom-based lifestyle she enjoys. For more information visit www.phoenixauthorink.comand find out how to create your own OutRAGEous Life.
She is represented by Rebecca Friedman.
To have Heather speak at your event, please email her at heatherhildenbr@gmail.com
Website I Facebook I Facebook Fan Page I Twitter I Goodreads
~~~
Giveaways!
Enter to win a custom Fated charm bracelet: a Rafflecopter giveaway
Sign-up for a free Fated Bonus Bundle and chance to win a $50 Gift Card and Live Chat with the Fated 5.