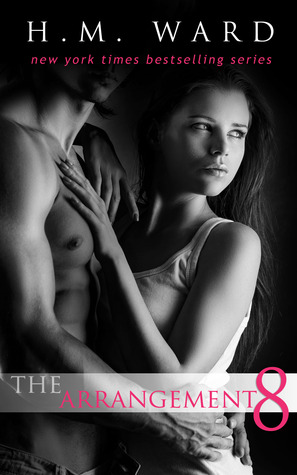 ~~~
The Arrangement 8: TheFerro Family (The Arrangement, #8) by H.M Ward
Kindle Edition,  125 pages
Published July 2nd 2013 by Laree Bailey Press
~Rating: 5/5 stars~
~Description~
Nothing ever goes the way it should. Marty is barely a friend any more, and the roommate from hell is doing Naked Guy on my couch again. It's bad enough that it feels like my life is coming apart at the seams. There's one man that has held it together for the past few weeks, but things change. All it takes is a few words and everything shatters. 
~Review~
Wow!!!!
This was, again, over so quickly. There is something about books you love, the characters, their tale, that enables you to devour the pages.
In volume 8 of The Arrangement series, It's Sean and Avery's last night together. While Sean offered Avery the title of permanent call girl Avery had to accept for her pride and her well-being for if Sean ever left Avery would once again be on her own with nothing to show for herself. This book starts off a little differently than the other "Arrangement" books in that it is not a DIRECT continuation of the previous cliffhanger. The books starts off AFTER an event that is described in "Damaged 2". You don't have to read "Damaged 2" to follow the story because the important information is relayed to the reader as flashbacks in Avery's mind.
Sean not being present in most of this story. Henry turning out to be psycho because of a woman from Sean and his past. I knew Marty was going to be her customer. He's trying to find a way to turn things in his favor make Avery feel something for him. So, now we have wait to see how that will play out. Even though us readers know Sean and Avery will end up together it will be interesting to see what Marty does. It seems that Sean and Avery are a bit different characters in Damaged. As, Sean seems mean and a ass hat as Avery seems she is riding with major self confidence and in this series they are just the opposite. I love the characters and the story line. Like all good things…they must come to an end. So, I am hoping that Ms. Ward finishes this series in one more book with lots and lots of pages.
This series just builds and builds. I am obsessed with 'what's next'. A quick read that leaves you wanting more. I highly recommend it!
~~~
~Author Bio~
H.M. Ward is the #1 bestselling New Adult author in the world, having sold over 2 million books in 2013. This NEW YORK TIMES, WALL STREET JOURNAL, USA TODAY, and Amazon #1 bestselling writer's series include: THE FERRO FAMILY: DAMAGED, THE ARRANGEMENT, and STRIPPED; as well as SCANDALOUS, TRYSTAN SCOTT, and SECRETS. Ward was recently featured in FORBES, the WALL STREET JOURNAL, and the WASHINGTON POST.
~Author Links~
Twitter | Facebook | Website | Goodreads
~~~
Happy Reading!
-Ana @SoManyBooksSoLittleTime
~~~